In December 2015, the market saw the first interest-rate hike in seven years, and loan investors began to wonder why their coupons weren't rising in tandem. The answer, of course, was LIBOR Floors a feature of loans designed to compensate for the historically low interest-rate environment that followed the 2008 financial crisis.
Since the 2008 crisis, most senior loans have been issued with a "floor." In fact, as of December 31, 2015, over 90% of the loans in the S&P/LSTA Leveraged Loan Index had a LIBOR floor, with a weighted average LIBOR floor of approximately 100 basis points. With LIBOR rates at the time hovering around 30 basis points, this created an approximate 70 basis point gap or "subsidy" on loan yields until such time that short-term rates increased and LIBOR moved above the floors.
Fast forward to October 2016 when regulatory reform on money market funds lowered demand for short-term commercial paper, resulting in higher yields and a noticeable increase in LIBOR. Add to that the Fed's December 2016 increase of short-term rates—its second since the 2008 crisis—and 3-month LIBOR and weighted average LIBOR floors were virtually neck-and-neck. As of the end of December, three-month LIBOR stood at approximately 100 basis points, and the weighted average LIBOR floor for the S&P/LSTA Leveraged Loan Index was 97 basis points.
Accordingly, as the chart below highlights, the majority of loans in the market are either already floating or at the inflection point where LIBOR and LIBOR floors are approximately equal. So loan investors can rest easier knowing that senior loans are once again an ultrashort duration asset class with coupons that are truly floating rate.
With the Fed signaling as many as three interest-rate increases in 2017, this is another compelling reason to consider an allocation to senior bank loans in the current environment.
Look Out Below: Loans Regain Floating-Rate Status as LIBOR Floors Disappear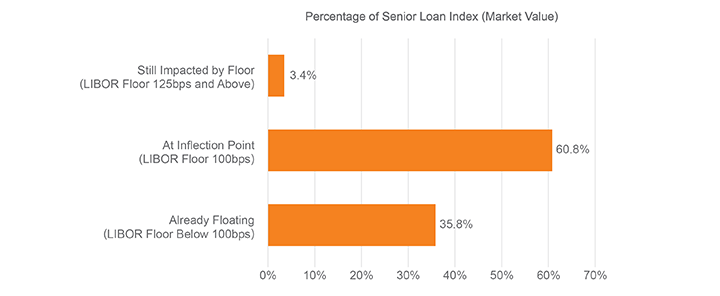 Source: S&P/LCD and Bloomberg. As of December 31, 2016. Senior Loan Index represents the S&P/LSTA Leveraged Loan Index.
Past performance does not guarantee future results.
This commentary has been prepared by Voya Investment Management for informational purposes. Nothing contained herein should be construed as (i) an offer to sell or solicitation of an offer to buy any security or (ii) a recommendation as to the advisability of investing in, purchasing or selling any security. Any opinions expressed herein reflect our judgment and are subject to change. Certain of the statements contained herein are statements of future expectations and other forward-looking statements that are based on management's current views and assumptions and involve known and unknown risks and uncertainties that could cause actual results, performance or events to differ materially from those expressed or implied in such statements. Actual results, performance or events may differ materially from those in such statements due to, without limitation, (1) general economic conditions, (2) performance of financial markets, (3) changes in laws and regulations and (4) changes in the policies of governments and/or regulatory authorities. The opinions, views and information expressed in this commentary regarding holdings are subject to change without notice. The information provided regarding holdings is not a recommendation to buy or sell any security. Fund holdings are fluid and are subject to daily change based on market conditions and other factors.