Since the Federal Reserve has raised short-term rates three times in the past six months and has clearly conveyed its intentions to "normalize" rates in a deliberate and methodical fashion, many investors are concerned about how their portfolios may be impacted by a tightening cycle. Many also wonder what are the best ways to avoid interest rate risk and capitalize on the rising-rate environment?
Rising rates are usually accompanied by robust business conditions during which economically sensitive investments and exposure to credit risk are typically well rewarded. Given that backdrop, floating-rate instruments — notably, senior bank loans — are a compelling way to reduce rate exposure.
Experience shows that during rising rate periods, senior bank loans can play a very helpful role in a portfolio, providing both relatively high income and the benefits of economic expansion in a double-barreled defense against interest-rate risk. As shown in Figure 1 below, senior loans have delivered materially lower interest-rate risk (effective duration) than conventional fixed income securities — and higher yields than most. This makes senior loans a potentially effective diversifier against the primary risk faced by all fixed-rate securities when interest rates rise.
Figure 1. The Attractive Relative Value of Senior Bank Loans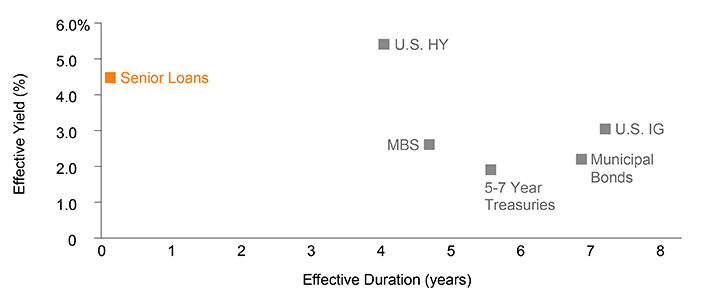 As of May 31, 2017. Source: S&P/LCD, BAML and Bloomberg. The Index is not subject to any fees or expenses. Investors cannot invest directly in an index. Past performance does not guarantee future results and there is the possibility of loss. The S&P/LSTA Leveraged Loan Index is an unmanaged total return index that captures accrued interest, repayments, and market value changes.
The floating-rate interest paid on a senior loan will rise and fall with changes in interest rates, but a change in rates alone rarely impacts the price of that loan. In fact, absent other factors, such as changes in the creditworthiness of a borrower, the price of a senior loan remains generally stable in the face of changes in market rates. Prices may fluctuate for other reasons, but in a broadly diversified loan portfolio such changes have been moderate, except in the event of economic recession or a severe market dislocation (such as in 2008).
Loans pay a two-part coupon — a base rate (typically 60-day LIBOR) plus a contractual credit spread. In the current interest-rate environment, loans have generated attractive yields as shown in Figure 2. Rising short-term rates have historically led to a pick-up in demand for the asset class, which can lead to short-term spread compression, but assuming the Federal Reserve continues along its prescribed path, such compression should not materially impact coupons, which remain above the average post-Financial Crisis average of 4.60%.
Figure 2. While Increased Demand for the Asset Class Has Caused Near-Term Spread Compression, Coupons Remain Above the Long-Term Average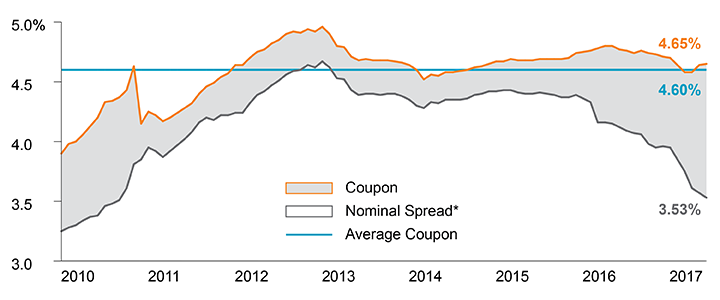 January 2010 – June 2017. Source: S&P/LCD; S&P/LSTA Leveraged Loan Index. Represents senior loan coupons from January 2010 through June 2017. Coupon uses Weighted Average Nominal Spread for the S&P/LSTA Leveraged Loan Index plus 3 Month LIBOR at month-end. Nominal spread data excludes all facilities in default. Nominal spread shows the excess spread over LIBOR, and includes LIBOR floors (where applicable). The S&P/LSTA Leveraged Loan Index is an unmanaged total return index that captures accrued interest, repayments, and market value changes. The Index is not subject to any fees or expenses. Investors cannot invest directly in an index. Past performance does not guarantee future results and there is the possibility of loss.
With some uncertainty still surrounding the actual trajectory the rise in rates will take, a look at the past experience of various asset classes may inspire confidence about expectations for total returns in such conditions.
Figure 3. Senior Loans Have Been a Performance Leader During Past Fed Tightening Periods

Source: Barclays Capital; Morningstar, Inc., Voya Investment Management 
Note: Asset class performance is represented by the following indexes: Bloomberg Barclays U.S. Aggregate Index, Bloomberg Barclays U.S. Corporate High Yield Index, Bloomberg Barclays U.S. Government/Credit 1-3 Year Bond Index, Credit Suisse Leveraged Loan Index, Standard & Poor's 500 Stock Index and Bloomberg Barclays GNMA Index.
There is, of course, no guarantee that loans will outperform as the Fed gradually removes monetary accommodation. However, Figure 3 shows, at the very least, during past tightening periods, loans outperformed the broad bond market (and most other alternatives). Combining all the past tightening periods, leveraged loans produced an average return of 6.45% compared to 2.55% for the U.S. Aggregate Index. Beyond the actual historical experience, the conditions that tend to lead to rate hikes — strong economic growth and potentially rising inflation — also support the case for senior loans as a permanent part of most portfolios, regardless of the timing of Fed policy changes.
While some investors might be reluctant to take on below investment grade exposure, today's credit risk situation remains relatively benign. In general, corporate leverage ratios are at acceptable levels, and corporations' ability to service debt continues to be, on average, relatively strong. Defaults are near historical lows and expected to remain so at least through 2018. Finally, senior loans are backed by corporate assets as collateral. This has resulted in historically higher recovery rates than those for subordinated/unsecured debt.
Our research indicates that most investors are woefully under-allocated to senior loans — on average, the investments account for only 1-2% of retail portfolios — even though many investors are aware of their advantages when interest rates rise. For those who have yet to invest, today's economic and market conditions present a potentially sound entry point. Corporate fundamentals favor loans, and their unique diversification benefits versus fixed-coupon bonds make them a natural counterpoint to all fixed income investment risks. And if the U.S economy continues to grow at a reasonable rate — as fundamentals suggest it should —  loans may deliver attractive returns relative to other assets regardless of what speed the Fed decides to increase short-term rates.
Finally, careful consideration is in order when selecting a senior loan strategy. Many loan funds actively include a sizeable allocation to other bond or bond-like assets, which can materially change the risk profile of a portfolio, particularly in a rising rating environment. If an investor wants all the advantages of loans in a rising-rate environment, we believe a "pure play" strategy is best. Similarly, keep in mind that senior loans are below investment grade: broad diversification and in-depth fundamental research aimed at avoiding credit losses are crucial steps in keeping their potentially high income as stable as possible.
Past performance does not guarantee future results.
This commentary has been prepared by Voya Investment Management for informational purposes. Nothing contained herein should be construed as (i) an offer to sell or solicitation of an offer to buy any security or (ii) a recommendation as to the advisability of investing in, purchasing or selling any security. Any opinions expressed herein reflect our judgment and are subject to change. Certain of the statements contained herein are statements of future expectations and other forward-looking statements that are based on management's current views and assumptions and involve known and unknown risks and uncertainties that could cause actual results, performance or events to differ materially from those expressed or implied in such statements. Actual results, performance or events may differ materially from those in such statements due to, without limitation, (1) general economic conditions, (2) performance of financial markets, (3) changes in laws and regulations and (4) changes in the policies of governments and/or regulatory authorities. The opinions, views and information expressed in this commentary regarding holdings are subject to change without notice. The information provided regarding holdings is not a recommendation to buy or sell any security. Fund holdings are fluid and are subject to daily change based on market conditions and other factors.