Earlier this year, we examined how disappearing LIBOR Floors simplified the investment case for senior loans. As loans have mostly regained their true "floating-rate" status, the next part of the equation for investors to focus on is movement of the credit spread, i.e. the spread over LIBOR, or credit risk premium. Think about credit risk premium as the amount of yield a loan needs to offer in order to attract investors. For example, loans perceived to be "risky" typically have higher credit risk premiums because investors require a higher yield as compensation for assuming greater risk.
Of course, perceived risk is just one factor that impacts the credit risk premium of a loan. In aggregate, the loan market, like any actively traded market, is subject to the laws of supply and demand. If investor demand for loans exceeds supply, companies can issue loans with relatively lower spreads, just as the manager of an apartment building would increase rent prices when a long list of people are waiting to rent a small number of apartments. In effect, it becomes a seller's, or issuer's, market.
For loan investors, this type of technical supply/demand backdrop can accelerate spread compression. Why? Because of loan repricing. Loans typically do not have a meaningful prepayment penalty, which means issuers will look to reprice when their loan is consistently trading above par in the secondary market. When loan demand is high, as it is today, the percentage of repricing activity tends to be above average.
A quick recap of 2016 provides context for the current repricing trend:
Investors' general appetite for loans grew in 2016 as risk sentiment improved
2016 CLO issuance was ~$72 billion, bolstered by the December effective date for new risk retention rules
Rising rate environment spurred flows into loan funds from retail investors, an investor base that had been noticeably absent since the beginning of 2014

2016 inflows for loan funds stood at $6.25 billion
Positive flows in 23 of the last 26 weeks of 2016

Robust non-CLO institutional demand based on the unique asset allocation benefits of loans 
As the market rallied in 2016, new issue volume and terms followed the technicals, moving more firmly in favor of issuers as demand picked up from all major investor sources. Institutional loan issuance exceeded $336 billion, up from nearly $257 billion in 2015.Refinancing activity made up 37% of the 2016 volume by purpose.
These trends continued into the first quarter of 2017, which saw a record level of activity in the loan market, with $169 billion in institutional issuance overtaking the previous record of $149 billion in the first quarter of 2013. Of this quarter's issuance, $54 billion was a result of opportunistic refinancing activity. Another $170 billion of straight repricings done via amendment brought the total repricing volume to a heady $225 billion in the first quarter of 2017.
It's important to note that the pace of first-quarter activity was most pronounced early in the quarter. Activity slowed in March as market risk tolerance moderated. If we dig beneath the surface of these historically high volumes, we see that leveraged buyout (LBO) and M&A-related activity actually increased, both for the quarter and on a year-over-year basis. In fact, the $81 billion in total LBO and M&A volume was the most in nearly two years. Additionally, at an institutional issuance level, acquisition-related deals were at a nearly 10-year high. These directional notes on the type and trend of supply offer some important color and context on the general health of the senior loan new issue market.
Looking forward, investors should pay close attention to organic loan supply, i.e. issuance not associated with repricing. Robust organic loan supply would likely lessen the unfavorable impact that further credit spread compression could have on gross yields. So the question is, what will help support organic loan supply? The answer: continued U.S. and global economic growth and reduced political and regulatory uncertainty.
Although we are still in a "wait and see" holding pattern as the new Trump Administration sets its policy priorities, we do believe that sound reflationary policies and tax reform measures could set the stage for improved investment confidence, which would likely provide a boost to new loan issuance. We are already seeing some indications of that, as previously mentioned.
That said, should the market remain materially undersupplied, it may lead to new bouts of credit spread tightening. Important in this context, however, is the fact that loan credit spreads remain above historical averages (Figure 1). Additionally, at this point, expectations call for LIBOR levels rising enough to offset or overcome most, if not all, of the coupon loss resulting from any potential credit spread compression. So far, this has been the case.
For comparison, the weighted average spread of the Index was 3.61% as of April 30, 2017, down 55 basis points (bps) from 4.16% as of April 30, 2016. But despite the 55 bps of spread tightening, the Index's weighted average coupon has decreased only 1 bp over that same period. As a result, all-in gross yields remain attractive, particularly relative to underlying risks of the asset class. For this and other reasons, we continue to believe that senior loans remain a compelling component of any broader fixed income allocation.
Figure 1. Despite Recent Pressure, Loan Spreads Remain Above the Post-2008 Crisis Average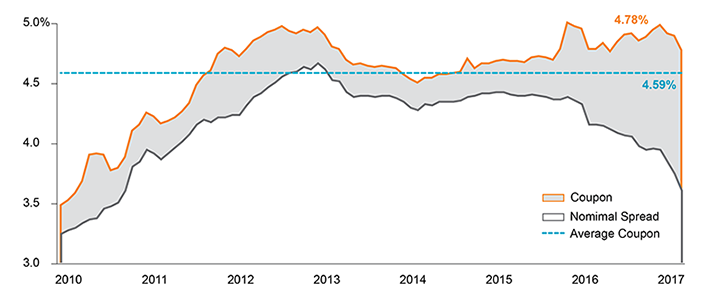 Source: S&P/LCD; S&P/LSTA Leveraged Loan Index. Represents senior loan coupons from January 2010 through April 2017. Coupon uses Weighted Average Nominal Spread for the S&P/LSTA Leveraged Loan Index plus 3 Month LIBOR at month-end. Nominal spread data excludes all facilities in default. Nominal spread shows the excess spread over LIBOR, and includes LIBOR floors (where applicable). The S&P/LSTA Leveraged Loan Index is an unmanaged total return index that captures accrued interest, repayments, and market value changes. The Index is not subject to any fees or expenses. Investors cannot invest directly in an index. Past performance does not guarantee future results and there is the possibility of loss. 
Past performance does not guarantee future results.
This commentary has been prepared by Voya Investment Management for informational purposes. Nothing contained herein should be construed as (i) an offer to sell or solicitation of an offer to buy any security or (ii) a recommendation as to the advisability of investing in, purchasing or selling any security. Any opinions expressed herein reflect our judgment and are subject to change. Certain of the statements contained herein are statements of future expectations and other forward-looking statements that are based on management's current views and assumptions and involve known and unknown risks and uncertainties that could cause actual results, performance or events to differ materially from those expressed or implied in such statements. Actual results, performance or events may differ materially from those in such statements due to, without limitation, (1) general economic conditions, (2) performance of financial markets, (3) changes in laws and regulations and (4) changes in the policies of governments and/or regulatory authorities. The opinions, views and information expressed in this commentary regarding holdings are subject to change without notice. The information provided regarding holdings is not a recommendation to buy or sell any security. Fund holdings are fluid and are subject to daily change based on market conditions and other factors.