Potential global economic stabilization and a slowing U.S. labor market should allow risk assets to benefit from loose monetary policies.
Global equities and fixed income posted quarterly gains across the board with the MSCI All Country World Index and the Bloomberg Barclays U.S. Aggregate Bond Index gaining 12.2% and 2.9%, respectively. The starting point for the year was overly pessimistic growth expectations and substantially oversold conditions. The dovish Federal Reserve pivot and broadly easier monetary policy globally have fueled a forceful rally in stocks and credit spreads. Most of the drop in U.S. Treasury yields, however, came in the month of March, during which the U.S. 10-Year Treasury yield declined from 2.75% to 2.40%. Interestingly, the 10-year yield is now hovering around the average since the recovery began in June of 2009.
The rally in bonds has concerned some market participants. The narrative is that the Fed thinks growth is weaker than it seems and the bond market is sniffing that out. The historical data on Fed pauses relay a different story. In the last five times that the Fed paused a hiking cycle, both equities and bonds performed quite well. Why? With the renewed Fed dovishness, interest rate expectations reset lower and equities get a shot of gas from less worry that higher rates will choke off growth and corporate earnings (Figure 1). This has been reflected in a swift expansion of forward earnings multiples, with the S&P 500 trading around 17.0x, up from 15.4x.
The European Central Bank (ECB) appears to be following the Fed's lead. The ECB announced that it would be holding rates at current levels through at least the end of the year and initiated a new round of liquidity operations for banks. The Bank of Japan also reaffirmed its commitment to maintain its accommodative monetary policy and the Japanese government is instituting several fiscal stimulus measures to offset planned sales tax increases.
Tactical Indicators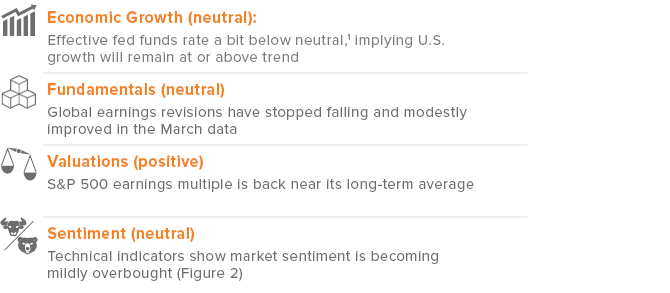 1 Based on the Fed's preferred Laubach–Williams measure of r*
Figure 1. 2019 earnings are declining but should remain positive for the full year
S&P 500 EPS Forecast

Source: Bloomberg and Voya Investment Management, data as of 3/29/2019
Figure 2. Voya Sentiment Indicator shows market sentiment remains neutral but moving towards overbought
Voya Sentiment Indicator

Source: Bloomberg and Voya Investment Management, data as of 3/29/2019.
Figure 3. Global manufacturing appears to have bottomed
JP Morgan Global Manufacturing PMI

Source: Bloomberg and Voya Investment Management, data as of 3/31/2019.
Portfolio Positioning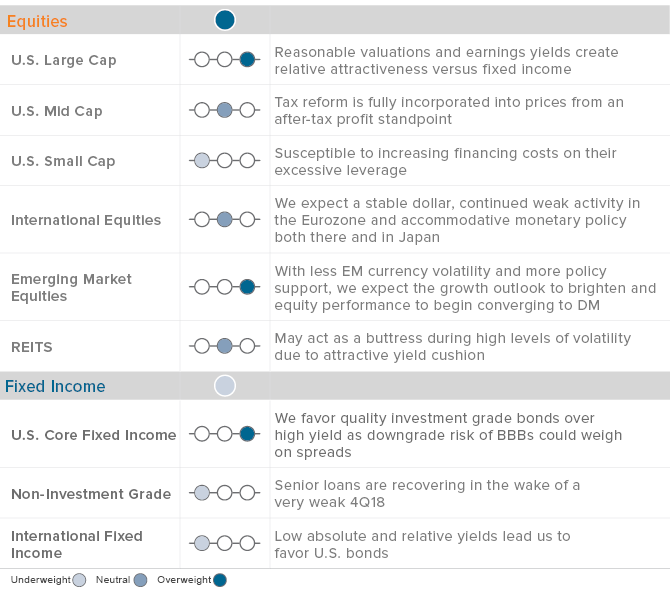 Investment Outlook
We are starting to see some early signs of green shoots in the economies outside the United States (Figure 3), a welcome development. A few data points worth noting have been the bounce in the China Purchasing Managers' survey, global purchasing managers' surveys stabilizing, albeit at low levels, and global earnings revisions bottoming. All of the above are on our list of high-frequency and rather cyclically-geared data points. We also see some signs of recovery in the U.S. housing market, which was feeling the pinch from higher rates. More data are needed, however, to turn these improvements into a trend.
With strong stock returns thus far in 2019, we expect the path forward will be a bit bumpier. Big gains tend to seep into investor psychology through a fear of missing out on potential gains. While we have seen institutional investor participation with flows into equities, retail investors have, in general, sat on the sidelines. We have seen this phenomenon play out before, thus it does not give us cause for concern, especially as the leadership of equities has been broad-based across sectors and regions of the world. Nevertheless, with a lot of good news in the price, it may mean more muted advances from here.
Earnings season is facing difficult comparisons from 2018, when the tax effects boosted corporate earnings per share. We note the expectations for 2019 earnings growth have been cut down dramatically to about 4% for the full year — three months ago that estimate was as high as 12%.
We did not make any significant changes to our portfolio in March, letting positions benefit from the tailwinds of oversold conditions. We believe the potential stabilization in the world ex-U.S. and the slowing of the pace of U.S. labor market tightening will allow risk assets to benefit from continued loose global monetary policy.
IM816055
Past performance does not guarantee future results.
This commentary has been prepared by Voya Investment Management for informational purposes. Nothing contained herein should be construed as (i) an offer to sell or solicitation of an offer to buy any security or (ii) a recommendation as to the advisability of investing in, purchasing or selling any security. Any opinions expressed herein reflect our judgment and are subject to change. Certain of the statements contained herein are statements of future expectations and other forward-looking statements that are based on management's current views and assumptions and involve known and unknown risks and uncertainties that could cause actual results, performance or events to differ materially from those expressed or implied in such statements. Actual results, performance or events may differ materially from those in such statements due to, without limitation, (1) general economic conditions, (2) performance of financial markets, (3) interest rate levels, (4) increasing levels of loan defaults, (5) changes in laws and regulations, and (6) changes in the policies of governments and/or regulatory authorities.
The opinions, views and information expressed in this commentary regarding holdings are subject to change without notice. The information provided regarding holdings is not a recommendation to buy or sell any security. Fund holdings are fluid and are subject to daily change based on market conditions and other factors.
Voya Investment Management Co. LLC ("Voya") is exempt from the requirement to hold an Australian financial services license under the Corporations Act 2001 (Cth) ("Act") in respect of the financial services it provides in Australia. Voya is regulated by the SEC under U.S. laws, which differ from Australian laws.
This document or communication is being provided to you on the basis of your representation that you are a wholesale client (within the meaning of section 761G of the Act), and must not be provided to any other person without the written consent of Voya, which may be withheld in its absolute discretion.