With two COVID-19 vaccines approved in the U.S. and more fiscal stimulus about to be deployed, there is a clear bridge (vaccine) to post-COVID normalcy and abutments (stimulus) that should keep the recovery on course. 
Historically weak, choppy economic data and unsettling, pandemic related headlines seem incongruent with the returns witnessed in capital markets throughout 2020. December wrapped up the year in a similar fashion. Labor markets cooled, manufacturing and services activity slowed (Figure 1) and consumer sentiment dropped. At the same time, COVID-19 infections in the United States and elsewhere reached all-time highs, regional hospital systems are again under stress and a more virulent strain of the coronavirus has surfaced in Europe. Yet, risk assets have pushed higher on investor confidence that the future will be better than the present. Compared to earlier in the recovery, cyclical segments of the market are now leading the way. Non-U.S. assets generally are outperforming U.S. and smaller caps have done better than large caps; over the quarter, energy and financials have been the best performing U.S. sectors.
The commencement of vaccine distribution and the passage of another coronavirus relief bill have driven gains in lagging areas of the stock market. One study estimates that vaccinating people over the age of 70 should reduce COVID-19 fatality risk by ~80%.1 Protecting the most vulnerable should allow authorities to relax restrictions and permit more mobility (Figure 2), which would increase activity in the most depressed areas of the economy. This won't happen immediately, however; more than 18 million confirmed cases in the U.S. (~5.6% of the population), high daily new-case counts (albeit declining) and winter weather are likely to keep most people at home for the majority of 1Q21. Thus, the latest fiscal package comes at the right time and should help fill some of the private side output gap.
Four and a half years after the Brexit referendum, a deal has been reached on Britain's departure from the European Union. Had the UK left without a deal, the result would have been a disastrously disordered separation. The agreement removes a huge uncertainty overhanging the UK and puts its economy and markets in a better position to heal.
Tactical Indicators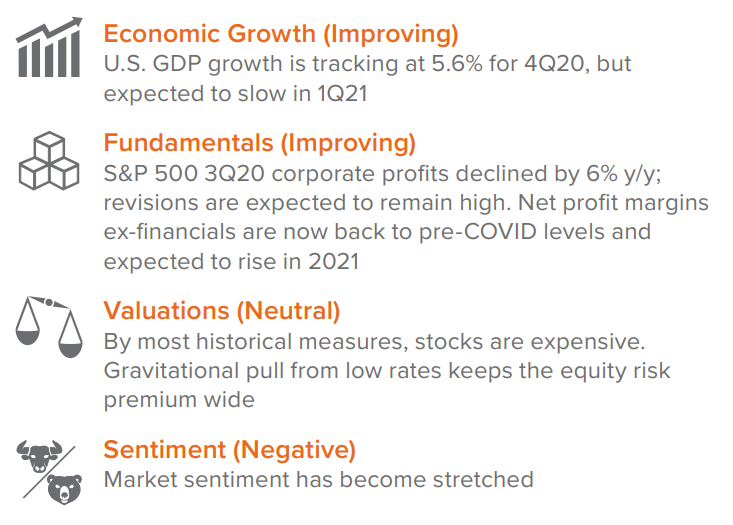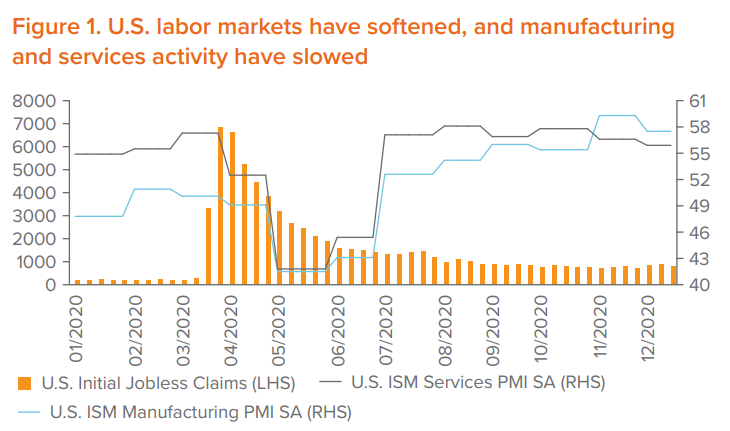 Source: Bloomberg, Voya Investment Management, as of December 25, 2020.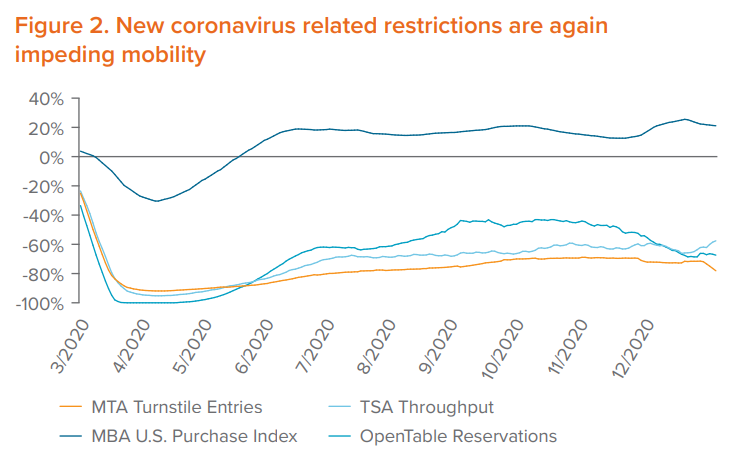 Source: Bloomberg, Voya Investment Management, as of December 30, 2020.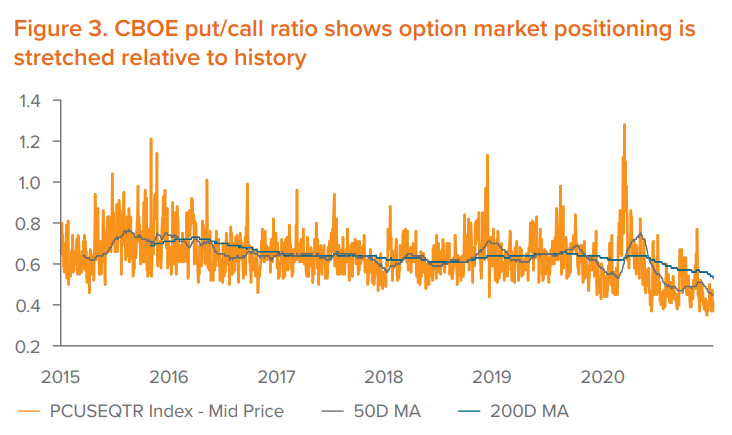 Source: Bloomberg, Voya Investment Management, as of December 24, 2020.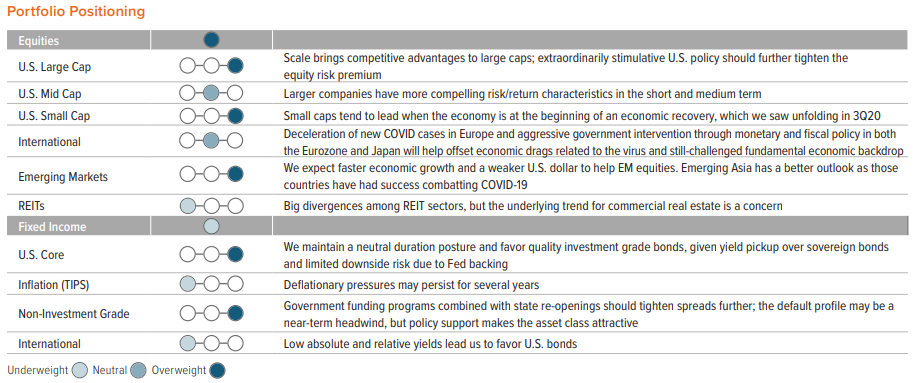 Investment Outlook
With two COVID-19 vaccines approved for use in the U.S. and a new round of fiscal stimulus on the verge of being deployed, there is a clear bridge (vaccine) to post-COVID normalcy and abutments (stimulus) that should serve to reinforce the recovery and absorb unexpected jolts along with way. Highly accommodative monetary policy is likely to be prolonged and act as an additional safety feature to ensure full-employment output is reached without a major accident. The Federal Reserve's new flexible inflation targeting framework should hold short-term rates near their effective lower bound until there is sustained progress toward their 2% inflation goal. Analogous developments taking shape in various forms across the world, should help reignite global growth to above-trend levels in 2021, breathe new life into struggling sectors and accelerate the rotation into cyclical assets already underway.
Equity markets look overbought to us, based on certain sentiment indicators, including the CBOE put/call ratio (Figure 3). However, we think the improving medium-term fundamental economic backdrop outweighs any near-term technical weakness. Estimates of U.S. corporate earnings growth for 2021 appear to us to substantially undershoot, particularly in the back half of the year, when we anticipate pent up demand will be unleashed as consumer spending speeds up and ailing services sectors are restored to health. We recognize most valuation measures that compare broad market stock prices to earnings, cash flows or sales look historically expensive. Yet, when adjusted for interest rates, we think stocks have more room to run. We think the Fed will keep the bond market tame in the near term, which will hold earnings multiples afloat while better future financial reports boost numbers in the denominator in 2H21. Another reason we like equities better than bonds is our view that in the next phase of the business cycle, cyclically geared assets will carry more of the load. The hand-off that began at the end of October is likely to continue; we remain overweight to U.S. small cap and emerging market equities, which stand to benefit from economic progression.
The same macro level view guides our positioning in fixed income. The lagged impact of fiscal and monetary policy, combined with a better controlled global health situation, should press corporate credit and securitized spreads tighter. We think accelerating growth will steepen the yield curve, so we are underweight duration. But we do not expect long-end yields will shoot so high, so fast, as to meaningfully tighten financial conditions. We continue to prefer U.S. fixed income over non-U.S. developed market bonds given their yield advantage. Our view is that the U.S. dollar will continue to weaken makes foreign bonds more attractive, especially EM debt. Nonetheless, we still think EM equities offer better risk-adjusted return potential than fixed income.