The repercussions of US midterm elections will be felt over the coming months and years, not days. The key is how the results are transmitted to the economy, chiefly through monetary and fiscal policy.
The markets often see elections as a sideshow, not the main event
Many contests and ballot measures were decided across the United States in the November 9 midterm elections, with others hanging in the balance. The country remains sharply divided along political lines. Although many investors fear the impact of politics on their portfolios, financial markets generally don't share the public's fascination with elections: 
Historically, election-related market volatility is typically short-lived. It is policy, not politics, that influences the economy and markets the most — and policy takes time to shape.  

In years featuring midterm elections, returns for US stocks have improved in each quarter, perhaps reflecting increasing clarity on policy direction. Going back to 1942, median quarterly returns for the S&P 500 were –1%, 2%, 5% and 8% during midterm years. Notable exceptions include 1994 and 2018, when rising interest rates led to negative fourth-quarter returns. As the Fed continues to tighten monetary policy today, this environment could again weigh on the markets, even as investors look ahead to an eventual pause in rate hikes. 

Given the Fed tightening cycle and the host of other powerful macro drivers — including geopolitical issues — we believe this year's election may be less of a catalyst than normal. 
How elections affect markets over the long term 
At the federal level, the US appears to be headed for a divided government, with power split between Democrats and Republicans. In this state of political gridlock, neither party will be able to push through major legislation — particularly with regard to spending, taxes, business regulations and immigration — which likely means fewer surprises for investors.  
But it's not the immediate fallout that should be on investors' minds. Rather, think of the three longer-term transmission mechanisms through which elections can affect the markets: 
Fiscal policy: Will less spending help slow inflation?  
The relationship between inflation and loose fiscal policy has been circulating through the popular press. The thought (accurate or not) is that Democrats have been too aggressive with spending, making the Fed's job of slowing inflation harder. Easy fiscal policy means there is too much money chasing too few goods, but legislative gridlock should limit government spending and borrowing, potentially lowering the deficit. Then again, rising interest rates could keep driving the deficit up as the government has to pay more to service its own debt.  
Monetary policy: Will there be less support for a hawkish Fed?  
There has been little political pushback on the Fed's hawkish bent this year. That could change with the apparent shakeup in Congress. Democrats are wary of Fed tightening leading to a serious recession, which could jeopardize their chance of retaining the White House and other government posts in 2024. But could political pressure sway policy? That's debatable considering that the Fed Board of Governors has voted unanimously for recent rate hikes.    
Geopolitics: Will divided government mean a change in foreign policy?  
We're living in an era of heightened geopolitical tensions — notably between Russia and Ukraine, and between China and the US. The shifting balance of power in Washington could have implications for how the US approaches these tense situations, and the markets will closely watch how events unfold in the coming months.  
Election results may be marginally bullish for bonds and neutral for risk assets
For bonds, the prospect of less fiscal spending could result in a lower inflation outlook and, on the margin, pull yields down. At the time this article goes to press, Republicans appear likely to take control of the House, while Senate control remains uncertain. If Democrats keep the Senate, we anticipate intense fights over raising the federal debt limit, with each party seeking to blame the other. Such partisan brinkmanship could cause havoc across financial markets, as we saw in 2013. Republican control of both chambers would likely eliminate this risk, as there would be no one else but themselves to blame for triggering a national default.
For equities, the best returns have historically come in times of a Democratic president and a split control of Congress (with the caveat that this scenario has been a rare occurrence; see chart). The precise election results could be most impactful for individual stocks, which makes stock selection all the more important. We do see a few possible repercussions at the sector level:   
Healthcare: Drug pricing rhetoric seems likely to continue in either scenario, which could weigh on this sector.  

Energy: A divided Congress means alternative energy businesses will likely not find as much support as they did in the last two years, but they shouldn't suffer too much. 

Technology: A divided Congress increases the probability of a legislative standstill, which could reduce the chance of passing anti-big tech regulation. 
Washington gridlock has been good for stocks
S&P 500 annual return based on control of White House and Congress, 1928–2021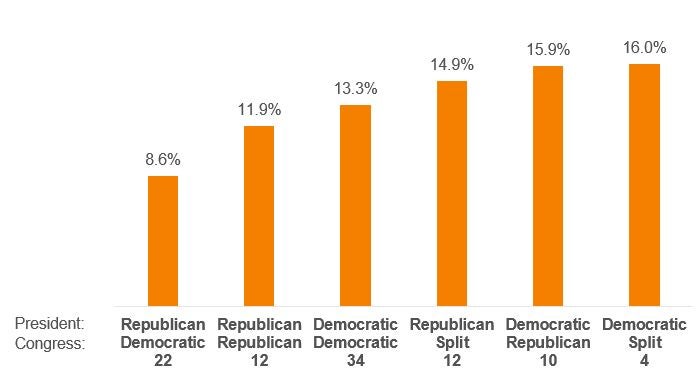 Source: Standard & Poor's, BofA US Equity & Quant Strategy. Excluding 2008, the average for a Republican president and Democratic Congress is 10.7% (still the second-weakest period). Using 1934 as the starting point, Republican sweep returns would be 14%. Price returns from 1928 to 1935 and total returns thereafter.