We believe the economy will grow well above trend throughout 2021, as massive pent-up consumer demand is released by vaccination progress, states reopening and highly accommodative government policy.
In an extraordinary shift of fortune, most experts now agree that the worst of the pandemic is behind us — U.S. infections are down ~80% from the early January peak, ~10% of the adult population is fully vaccinated, ~20% have received at least one dose; and there is enough supply to vaccinate all adults by the end of May, according to President Biden. Although coronaviruses are here to stay and there may be new policies and precautions that didn't previously exist, those measures that are economically constraining are almost over. Markets have been frontrunning this scenario for a while, but the economy, which has held up remarkably well all things considered, is preparing to lift off. U.S. 4Q20 economic growth was revised up to 4.1%, 1Q21 is tracking 4.5% and we forecast full year 2021 real GDP growth will be 5.7%.
Investors have responded by aggressively selling U.S. Treasurys. Since bottoming in early August at 0.51%, the 10-year U.S. Treasury yield has soared roughly 100 basis points (bp) to 1.5%. About 40% of this rise has come from real yields and 60% from inflation expectations. The move higher in rates has hurt long duration assets, with the Bloomberg Barclays U.S. Treasury 20+ Year index down nearly 10% YTD. Although only two months in, it's the third largest calendar year drawdown for long dated U.S. Treasurys in over 30 years. Equities fared better than fixed income in February. U.S. small caps led the way again with the Russell 2000 returning 11.6% YTD. U.S. value beat growth by about 6% on the month, thanks to strong performance in the financial and energy sectors. A substantially steeper yield curve (the 2–10 spread widened by ~100 bp since August) helped financials; and a 70% increase in the price of WTI crude since the end of October was much needed for energy shares, which had a dreadful 2020 experience. Emerging market stocks trailed developed markets in February, but are slightly ahead YTD.
Tactical Indicators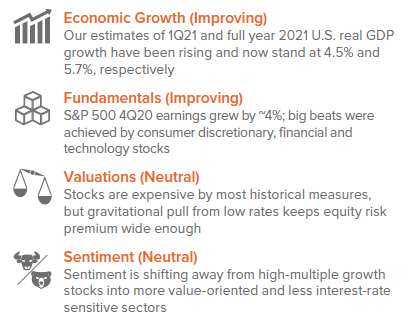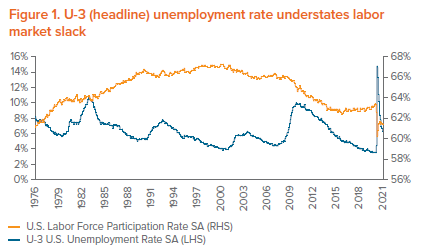 Source: Bloomberg, Voya Investment Management, as of March 5, 2021.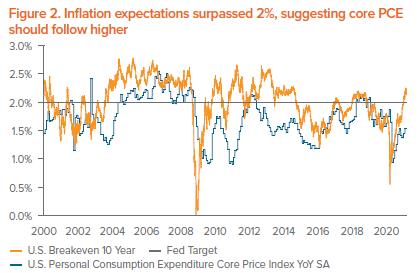 Source: Bloomberg, Voya Investment Management, as of March 8, 2021.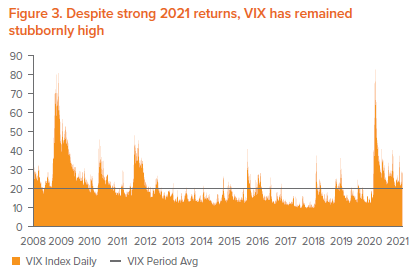 Source: Bloomberg, Voya Investment Management, as of March 5, 2021.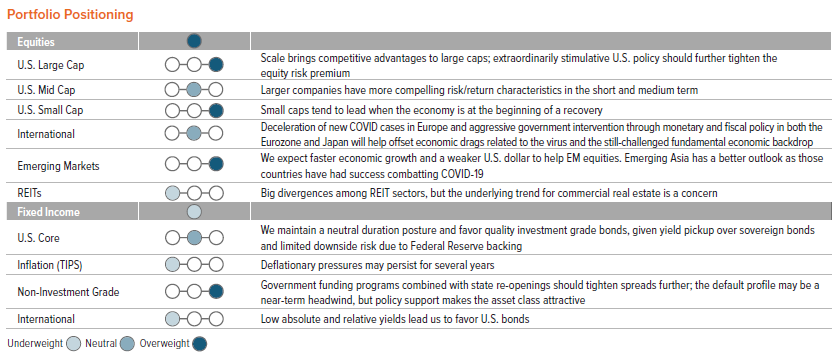 Investment Outlook
Significant progress in vaccination programs, states reopening, still highly accommodative government policy and the release of massive pent-up demand from excess consumer savings should drive economic growth well above trend throughout 2021. With immunity levels climbing, vaccine supply accelerating quickly, weather warming and people preparing to escape from their yearlong seclusion, the stage appears set for a big ramp-up in activity. Intent on combatting inequality and boosting incomes of lower wage workers, government officials will attempt to force unemployment to historically low levels by keeping their foot on the gas. Although down to 6.2% from its April 2020 high of 14.8%, the U-3 unemployment rate understates labor market slack, as the labor force participation rate is holding near a 45-year low (Figure 1), suggesting ample scope for improvement in the labor to population ratio — which will be critical given the demographic shift to an aging workforce. These circumstances, coupled with ascendant animal spirts, could create an ideal backdrop in which labor and capital can thrive concurrently.
History is always a helpful guide to the future, but the environment upon which we are embarking seems exceptional, which raises the odds of encountering something unforeseen. The prolongation of zero-bound interest rate polices from global central banks and virtually unrestrained fiscal expansion, including the latest $1.9 trillion COVID-19 aid package, certainly raise the specter of inflation and fast rising bond yields. While these are closely watched variables, which somewhat lowers the risk that they could spike out of control, they still pose considerable risks. Budding price pressures are propagating in commodities markets, building up in supply chains through swelling backlogs of key product components, such as micro processing chips, and presenting in purchasing managers surveys and in prices of Treasury inflation protected securities (TIPS).
That said, after two decades of the Federal Reserve's preferred inflation metric — the core personal consumption expenditures deflator (core PCE, Figure 2) — averaging well below its 2% target, we believe deflation remains a greater risk; therefore, the Fed's plan of "running hot" is reasonable. Whether, how much and how fast prices rise are debatable. We believe increases in both inflation and yields will be gradual enough, and the levels low enough, to not drastically tighten financial conditions. Barring an unpredictable, exogenous shock, we are confident that neither will move decidedly lower. As a result, we are content holding more stocks than bonds. Yes, rates are rising and narrowing the equity risk premium, but we see them moving mostly for the right reasons and find the stock/bond trade-off still positive.
The economic tailwinds forming have led to much better than expected 4Q20 earnings growth and should improve visibility going forward. We believe this transition to a more stable macro environment will continue to benefit our preferred asset classes: U.S. small cap and emerging market equities. Last year's equity market returns were largely driven by defensive, pandemic protected businesses and earnings multiple expansion. This year, we anticipate higher corporate profits, particularly from the cyclical areas of the market, which should benefit from reopening and deployment of large amounts of cash on the sidelines.
Valuation multiples relative to history seem decreasingly useful at the asset class level in a world where policymakers' involvement in economic and financial market affairs is so visible. Instead, we are closely gauging investor sentiment, monitoring global liquidity and watching for signs of excess leverage. The path of the U.S. dollar will be a key factor in the success of positioning in emerging markets. Recent dollar strength has been a drag on EM asset performance, but could serve to curtail domestic inflation pressures and ease related investor anxiety, which remains stubbornly high, as measured by the VIX (Figure 3).