The return of volatility has been the dominant headline since the beginning of the year. Fast forward to May as investors watched the ten-year yield break through 3% and reach seven-year highs. The shape of the yield curve has come into focus, and the market is beginning to question if we have moved close to the edge of an abyss. Not quite yet is our answer — cautious but not bearish has been our mantra for most of this year and several factors continue to support this view. For example, the move on the long end of the yield curve has been relatively stable, and inflation expectations, while higher, have not been overly aggressive.
Looking ahead, all eyes remain locked on the Fed's tightening agenda. While the next two FOMC meetings will likely result in rate hikes, a third is less certain: the Fed's aggressiveness is likely to moderate as it moves closer to a neutral policy rate. We believe it is equally (perhaps more) important to take stock of what is happening in the rest of the world. Real yields in Europe and Japan linger in or near negative territory. At this stage in the credit cycle, this leaves the European Central Bank (ECB) and Bank of Japan dangerously close to running out of time and having little firepower to combat any growth headwinds.
From a positioning standpoint, avoiding downside velocity is our primary focus. As we evaluate industries, sectors and regions across the world, we are asking where are we likely to lose the most? Given the global monetary picture, the United States looks relatively attractive in this context, particularly floating-rate areas of securitized credit such asset-backed securities (ABS) and collateralized loan obligations (CLOs), which deliver attractive exposure to strong U.S. fundamentals. We are closely monitoring deficit levels in the U.S., however, as too much Treasury issuance potentially could flatten the yield curve. Outside the U.S., our shift of focus in emerging markets to local-currency debt has proved beneficial. We will continue to monitor emerging market opportunities selectively against a backdrop of growing U.S. dollar strength.
Spreads, Returns and Yields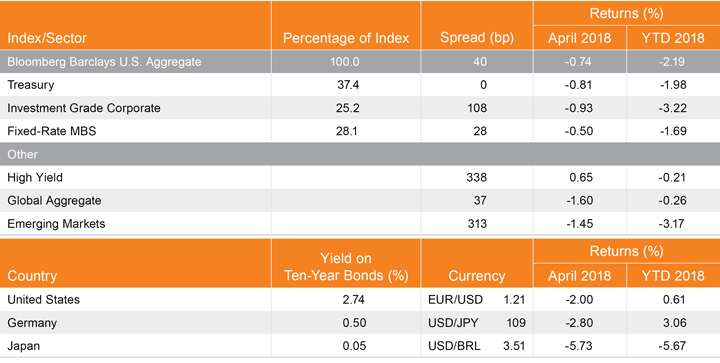 Source: Bloomberg, JPMorgan, Standard & Poor's. All spreads are to U.S. Treasurys and are option-adjusted except for emerging markets, which are nominal. All returns are total returns including dividends, expressed as percentages, in U.S. dollars.
Bond Market Outlook
Global Rates: strong economic data, elevated supply continue to push U.S. yields up ahead of June FOMC meeting
Global Currencies: U.S. dollar to strengthen against yen, euro, weaken against select EM currencies
Investment Grade: Strong Q1 earnings further support fundamental picture but near-term technical headwinds remain
High Yield: fundamentals continue to trend positively but valuations leave limited opportunities
Securitized Credit: outlook brightens for CLOs as supply pressures decrease
Emerging Markets: U.S. dollar strength, higher U.S. rates remain headwinds; bias towards local rates on solid country fundamentals
Sector Outlooks
Global Rates and Currencies
Concerns over trade wars and equity weakness temporarily moved Treasury yields lower in April, but this did not last long as strong economic data, higher inflation expectations and heavy new issuance drove the 10-year rate above 3% for the first time since 2014. This, coupled with a slowdown in economic data out of Europe and Japan, has led to a continued rally in the U.S. dollar, which we expect to continue versus the euro and yen. While there are catalysts for continued dollar strength, we maintain our view that the dollar will weaken versus select emerging market currencies. We expect German rates to remain range-bound as the ECB remains on the sidelines and monetary policy accommodation continues. Eurozone retail, wholesale, household and industrial sectors moved lower during the first quarter, declining faster than in 2008 and driving down rates. We believe prices have adjusted to these downside surprises, and a reversal in coming months will lead to higher rates.
Investment Grade Corporates
The outlook for investment grade credit remains solid. The 1Q18 earnings results came in strong and met already high expectations, providing investors some solace that fundamentals remain supportive. The positive technical story remains intact as near-term headwinds subside and we expect demand from pension funds and foreign investors to remain strong. With spreads now about 25 basis points (bp) off their year-to-date tights, we believe valuations remain attractive. We continue to favor the financial sector, as higher interest rates will support it; we also favor communications and utilities.
High Yield Corporates
High yield recovered a bit in April as volatility declined and some opportunistic buying provided a small bounce. Double Bs underperformed as the HY market is still reluctant to take on rate risk. Credit fundamentals continue to trend positively as we move through the earnings season, though there are pockets of weakness. Equity volatility and fears of a trade war remain as headwinds for the asset class. Current spreads of around 340 bp and yields above 6% make valuations more reasonable. While economic fundamentals are sound, credit-specific issues are continuing to arise, making security selection key to successfully navigating what could be a choppy market ahead.
Securitized Assets
Agency residential mortgage-backed securities (RMBS) performed well during the April sell-off but hit a wall when the 10-year U.S. Treasury went above 3%. Performance should remain tied to volatility with little change to fundamentals. The Federal Reserve will reach full tapering mode in October, which will increase net supply. We find few technical advantages supporting RMBS, so spreads likely will have to widen to attract investors. Therefore, we remain underweight.
We maintain a positive tactical outlook on non-agency RMBS as sector attributes continue to resonate with investors. Relative value is less than compelling for credit-risk-transfer securities, but demand-supply dynamics remain manageable for this floating-rate asset class. Non-agency RMBS continue to be driven by a recovering housing market. Upside remains as credit availability increases, home ownership bottoms and the Millennial demographic engages.
Higher quality segments of the asset-backed securities (ABS) space recently showed weakness in sympathy with the move in short IG corporates, but the asset class remains supported by strong U.S. consumer fundamentals. While valuations remain tight on a relative basis, we expect the sector to outperform through the current bout of volatility. Within ABS, we continue to have a positive outlook for collateralized loan obligations (CLOs), as we expect decreasing supply pressures to reverse recent sector widening. Furthermore, the sector is likely to continue to benefit from demand for floaters and rising LIBOR.
We maintain our positive outlook for commercial mortgage-backed securities (CMBS). Supply factors have proven more than manageable, with new issuance light. In our view, fundamentals will remain stable; relative value and correlations with other risk markets are the most likely catalysts for near-term outperformance potential.
Emerging Market Debt
Global trade uncertainty is not likely to derail emerging market (EM) growth momentum. Nonetheless, rising geopolitical uncertainty and U.S. sanction risks could lead to heightened volatility in EM spreads. Currency volatility seems likely on the back of trade uncertainties, while local EM rates remain uncorrelated to EM spread widening. Most sovereign credit metrics are still benefiting from the growth picture, though country differentiation remains key due to changing macro drivers and tighter financing conditions.
Past Performance does not guarantee future results.
This commentary has been prepared by Voya Investment Management for informational purposes. Nothing contained herein should be construed as (i) an offer to sell or solicitation of an offer to buy any security or (ii) a recommendation as to the advisability of investing in, purchasing or selling any security. Any opinions expressed herein reflect our judgment and are subject to change. Certain of the statements contained herein are statements of future expectations and other forward-looking statements that are based on management's current views and assumptions and involve known and unknown risks and uncertainties that could cause actual results, performance or events to differ materially from those expressed or implied in such statements. Actual results, performance or events may differ materially from those in such statements due to, without limitation, (1) general economic conditions, (2) performance of financial markets, (3) interest rate levels, (4) increasing levels of loan defaults, (5) changes in laws and regulations, and (6) changes in the policies of governments and/or regulatory authorities.
Voya Investment Management Co. LLC ("Voya") is exempt from the requirement to hold an Australian financial services license under the Corporations Act 2001 (Cth) ("Act")in respect of the financial services it provides in Australia. Voya is regulated by the SEC under US laws, which differ from Australian laws.
This document or communication is being provided to you on the basis of your representation that you are a wholesale client (within the meaning of section 761G of the Act),and must not be provided to any other person without the written consent of Voya, which may be withheld in its absolute discretion.
©2018 Voya Investments Distributor, LLC • 230 Park Ave, New York, NY 10169 • All rights reserved. 
CMMC-FIMONTHLY 052218 • IM0522-42358-0519 • 163124