U.S consumers have stayed resilient despite faltering manufacturing activity and trade-war hindrances; we think corporate profits will hold up better than expected.
Global equity markets declined over August, as trade tensions between the United States and China escalated. Throughout the month it became increasingly clear that neither side was willing to budge on its position and tariffs planned for September would indeed take effect. The recent rhetoric emanating from each country's trade representatives leads us to believe that this issue is unlikely to be resolved soon. Last year, China was the largest U.S. trading partner, but amidst increasing tariffs, they have dropped behind Mexico and Canada in 2019. Moreover, the dispute is spreading to other countries and weighing on economic activity more broadly.
In typical risk-off fashion, cyclical asset classes — emerging-market and smaller-capitalization stocks and cyclical sectors such as technology, materials and financials — led the way lower. Economic data also deteriorated over the month. For the first time in over three-years, U.S. manufacturing PMI dipped below 50, into contraction territory. Concerns over the global growth outlook caused long-dated interest rates to fall and the yield curve to invert. As a result, long-term U.S. Treasurys were once again the best performing major asset class during the month. Year-to-date, the Bloomberg Barclays U.S. Treasury 20+ Year TR Index is up more than 24%.
Despite sluggish capital spending, discouraging news flow and the melancholy market mood, U.S. consumers remained resilient. The Kansas City Federal Reserve's Labor Market Conditions Index (Figure 1) illustrates the favorable job environment for U.S. workers that underlies the steady rise in wages and high consumer confidence (Figure 2). Durable consumer demand is propping up estimates of U.S. growth. A number of GDP NowCasts are pointing to a 2%+ quarter. In addition, the Congressional Budget Office's new estimate of trend growth is 2.1%. This is important because many forecasters think the economy will slide as the supposed one-off effects of the 2017 tax cuts and deregulation are depleted. Those forecasters could be surprised if the economy grows faster than expected.
Tactical Indicators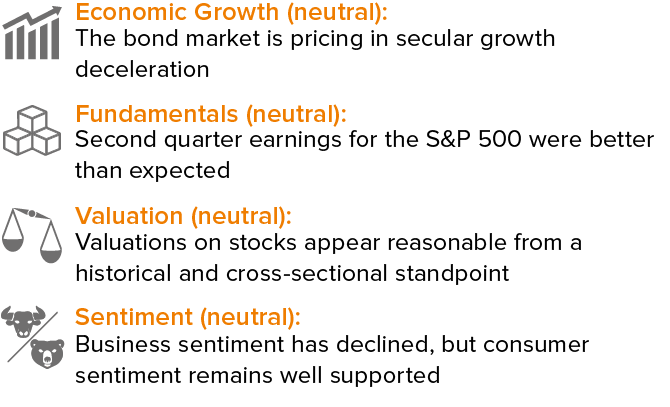 Figure 1. U.S. labor market conditions remain strong

Source: Kansas City Federal Reserve, Bloomberg, Voya Investment Management, as of 7/30/19
Figure 2. Steady wage gains underpin high consumer confidence

Source: Atlanta Federal Reserve, Bloomberg, Voya Investment Management, as of 8/31/19
Figure 3. Cyclical value stocks are trading at a deep discount to defensive/low volatility stocks
S&P Low Volatility - S&P Value PE Multiple Spread

Source: Bloomberg, Voya Investment Management, as of 8/31/19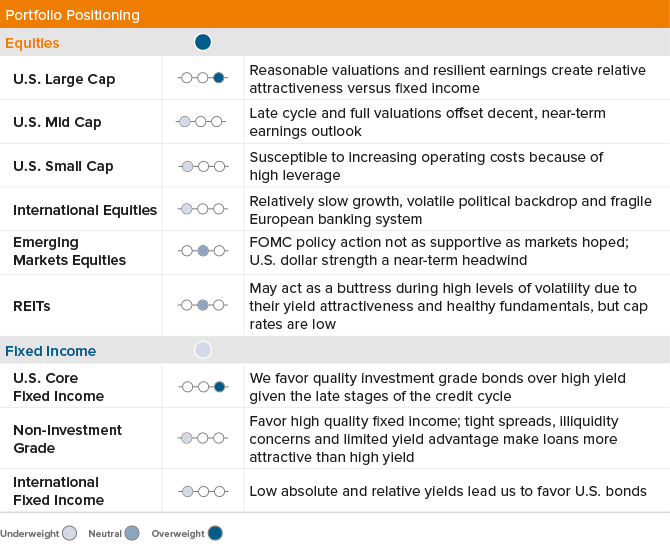 Investment Outlook
Several ominous signs have stoked investor fears of an imminent recession. Among them are an ultra-flat and partially inverted yield curve, contracting manufacturing activity and multiple material geopolitical clashes. Bond market behavior seems to reflect expectations of deceleration in nominal growth. The growth slowdown is from above trend, however; we believe bonds are inaccurately pricing the persistence of sluggishness. While a turnaround catalyst remains elusive, better U.S.–China relations or satisfyingly accommodative central banks are the chief contenders. If a backup in yields occurs, it probably will be swift and painful for those with long duration postures. Accordingly, we are modestly short duration.
Earnings growth on the S&P 500 clocked in at 4.9% year-over-year. Although this is down substantially from more than 20% a year ago, it is actually a reassuring, positive sign of corporate financial fitness. This is because earnings growth was expected to be negative at the start of the quarter. So the beat comes as welcome relief in the face of heightening trade conflict, soft manufacturing prints and wavering business confidence. What's more, margins have held up remarkably well. Despite warnings that the effects of fiscal stimulus are fading, lower corporate tax rates and lighter borrowing costs are offsetting the drag from higher wages.
We think margins will continue to hold up better than most anticipate as rates are likely to remain low and labor costs, although increasing, should be held to manageable levels. Still, given the mature stage of the business cycle, and growth headwinds, we are not expecting the double-digit earnings growth rates that characterized the prior few years. As a consequence, the majority of gains from here are likely to come from earnings multiple expansion. The forward PE on the S&P 500 is currently more than 10% below its cycle peak in December of 2017, while only about 5% above its 25-year average, which we believe offers room for upside potential. Optimistic consumer sentiment is supporting multiples where they are; but for valuations to break out and convince us to re-establish a more bullish positioning, we need to see firmer business confidence or a pickup in activity. For that to happen, businesses are likely waiting for more clarity on the trade conflict before they resume growth-oriented capital expenditures.
One of the largest valuation discrepancies being discussed at the moment is the gap between cyclical value stocks and defensive/ low volatility stocks (Figure 3). Although on the surface this looks like an attractive contrarian opportunity, we exercise caution as the momentum behind defensive stocks is forceful. The momentum factor — which is constructed by going long winners, mostly low volatility stocks; and short losers, primarily value stocks — delivered sizable excess returns in August. For us to get comfortable moving on value's valuation discount, we need to see a signs that growth, particularly outside the U.S., is set to reaccelerate.
IM946756
Past performance does not guarantee future results.
This commentary has been prepared by Voya Investment Management for informational purposes. Nothing contained herein should be construed as (i) an offer to sell or solicitation of an offer to buy any security or (ii) a recommendation as to the advisability of investing in, purchasing or selling any security. Any opinions expressed herein reflect our judgment and are subject to change. Certain of the statements contained herein are statements of future expectations and other forward-looking statements that are based on management's current views and assumptions and involve known and unknown risks and uncertainties that could cause actual results, performance or events to differ materially from those expressed or implied in such statements. Actual results, performance or events may differ materially from those in such statements due to, without limitation, (1) general economic conditions, (2) performance of financial markets, (3) interest rate levels, (4) increasing levels of loan defaults, (5) changes in laws and regulations, and (6) changes in the policies of governments and/or regulatory authorities.
The opinions, views and information expressed in this commentary regarding holdings are subject to change without notice. The information provided regarding holdings is not a recommendation to buy or sell any security. Fund holdings are fluid and are subject to daily change based on market conditions and other factors.
Voya Investment Management Co. LLC ("Voya") is exempt from the requirement to hold an Australian financial services license under the Corporations Act 2001 (Cth) ("Act") in respect of the financial services it provides in Australia. Voya is regulated by the SEC under U.S. laws, which differ from Australian laws.
This document or communication is being provided to you on the basis of your representation that you are a wholesale client (within the meaning of section 761G of the Act), and must not be provided to any other person without the written consent of Voya, which may be withheld in its absolute discretion.