We have strong conviction that the U.S. and global economic expansion will continue at an above trend pace this year, and that growth will persist into 2022.
Positive U.S. and global economic momentum continued unabated through the second quarter. Although the pandemic technically remains in effect, some emerging market countries struggle to access and distribute vaccines and pockets of infection surges from new viral variants remain a drag in certain parts of the world, the COVID crisis appears to be mostly behind us. The successful campaign against the microscopic pathogen has removed most growth inhibiting constraints in the developed world, with U.S. real GDP now less than 1% below its 2019 peak. We estimate 2Q21 growth will be near 9% and should push output to new highs. The latest phase of the comeback has been driven by laggard sectors — travel, leisure, etc. — which now are benefiting from full-fledged reopening. Broadening activity is worsening supply and demand imbalances, pressuring prices higher. Core measures of inflation are at their highest since the early 1990s (Figure 1). The sharp, significant snapback in 3Q19 goods consumption is being followed by a renewed desire for services, which is helping further tighten labor markets to what we believe will be exceptionally low levels of unemployment before the cycle is over. We believe wage increases, driven by the eventual passage of a large infrastructure bill, should quicken. But we think these inflationary pressures largely will be offset by reduced supply disruptions and gradual tightening of monetary conditions.
Prices for financial assets, particularly of the risky variety, are also rising. U.S. stocks advanced for the fifth straight quarter, with value ceding ground to growth following a very strong first three months. Real estate investment trusts (REITs), primarily comprised of commercial properties, have performed well recently. Although far from fully healed and with a lot of uncertainty regarding the future of office space, commercial properties have benefited from employees starting to return to offices. Residential real estate, a smaller component, still provided a welcome tailwind as U.S. home prices jumped the most in three decades during April. International shares posted solid, albeit lesser gains. Second quarter emerging market returns were weighed down by China, which is experiencing a government induced, debt-laden slowdown.
Tactical Indicators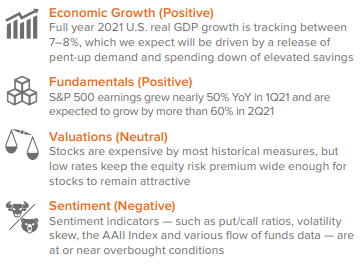 Figure 1. Core measures of inflation are at their highest since the early 90s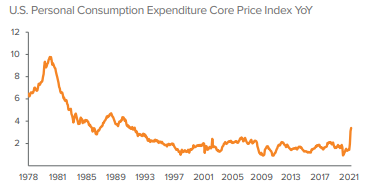 Source: Bloomberg, Voya Investment Management, as of 7/6/21.
Figure 2. U.S. debt continues to build with the country set to register a $3 trillion budget deficit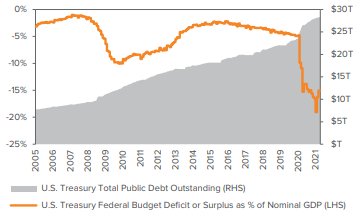 Source: Bloomberg, Voya Investment Management, as of 7/6/21.
Figure 3. Multiple expansion drove the first leg of U.S. stocks' trip higher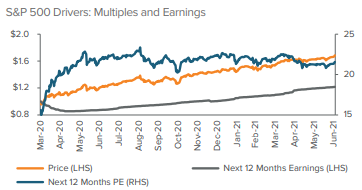 Source: Bloomberg, Voya Investment Management, as of 7/2/21. S&P 500 price level and NTM earnings rebased to $1.
Portfolio Positioning

Investment Outlook
We have strong conviction that the U.S. and global economic expansion will continue at an above trend pace through the balance of the year. Despite being in a much better position than a year ago, near crisis levels of fiscal and monetary supports remain. On the heels of a record amount of government spending in 2020, the United States is set to register a $3 trillion budget deficit (Figure 2) and pass another robust round of stimulus. Although a sharp pickup of inflation is usually a late cycle phenomenon, we think we are in the early middle innings of what will become a prolonged phase of growth that declines into 2022. Our confidence is largely based on the view that the Federal Reserve can control average price level swelling and successfully reduce monetary accommodation when needed, without triggering a deflationary tailspin or market panic — events that have in past cycles plagued several developed market countries as they attempted to exit recession.
Positive growth is one important ingredient in the stock return forecast equation. As we have seen over the last year, expectations and sentiment – both of which seem stretched — are also crucial. Ultimately, results should come down to profits. Since the March 2020 bottom, the vast majority of U.S. equity returns have come from multiple expansion (Figure 3), a reflection of investor expectations and risk aversion. There is no rule that valuation ratios can't go higher, but in the investment world, gravity increases with altitude and we think earnings growth needs to take the baton during the next leg. S&P 500 consensus earnings estimates for 2021 recently have been revised up to a lofty $232 per share. Recognizing that high valuations leave a thin margin for error, we still think the supportive macro backdrop and substantial pent-up demand will propel better than expected company bottom lines and keep the bull market running. Therefore, our long-held equity overweight is intact.
U.S. equities continue to be a favorite region. Wanting to hold a healthy exposure to cyclically sensitive assets, we strategically shifted some large cap exposure to mid cap equities. This helped offset our further tactical lightening in small caps, which we think could continue to be held back by labor availability and are vulnerable to potential tax increases. The proceeds from the sales of small caps were used to fund a newly initiated overweight to Europe. We have been cautious on Europe for years, but with more successful vaccine rollouts (relative to 1Q21) and reopening for global tourism this summer, Europe looks to be the next leg of global growth. The European recovery package, Next Generation EU, finally was ratified in May and is set to disperse funds in August, which should foster well-above trend economic growth of 5.9% in 2021. This, combined with European stocks' value tilt and relatively cheap valuations, have us more optimistic on the region than we have been in years. We have also cut back our overweight to emerging markets. China's tightening of credit and money supply point to difficulties in EM broadly. Furthermore, COVID risk is most pronounced in these less developed countries. So, while we still like EM for gearing to global growth and think U.S. dollar weakening will aid local profits, the risk/reward trade-off has become slightly less attractive, thus impelling our position trim.
In fixed income, given our generally risk-on posture and expectation for moderate increases of inflation and interest rates, we still prefer credit over duration and high yield over investment grade. Additionally, we have reduced our allocation to Treasury inflation protected securities (TIPS) where they are held in our more conservative portfolios, as valuations have become expensive.