Is recent equity market volatility an overdone technical correction—or something more ominous?
Investors Skittish after Challenging October
October was a difficult month for market participants without anywhere to ride it out. Small-cap, mid-cap and growth stocks led the way down. U.S. and European high yield credit spreads gapped out to their widest levels of the year. Even higher quality bonds were not immune to the sell-off, as the Bloomberg Barclays U.S. Aggregate Bond and U.S. Treasury 20+ Year indexes declined 0.79% and 3.10%, respectively. After a calm summer, investor sentiment shifted. The correction was sharp and unusually broad in scope. According to JP Morgan research, only one-fifth of asset classes has generated positive returns this year, a share that has never been so low outside the 1970s stagflation episodes and the global financial crisis.
There were numerous causes for this carnage including concerns over rising interest rates, decelerating earnings and uncertainty over potentially hawkish Fed policy. We see it as indigestion from some combination of these worries, plus investors overreacting to modest changes in the late-cycle economic environment. Although it has been over a decade since the Lehman Brothers bankruptcy shifted the global financial crisis into high gear, that trauma left many investors scarred. Painful memories of the last brutal bear market, coupled with momentum-based trading strategies, probably exacerbated the move lower.
The drawdown in equities contributed to a significant tightening of financial conditions, especially in the United States (Figure 1). At this level, Goldman Sachs estimates that restrictive financial conditions will shave about three-quarters of a percentage point from U.S. real GDP growth. This estimate assumes nothing changes (admittedly unlikely), but highlights the role equity prices and the wealth effect play in driving economic growth. Higher interest rates also bring about tighter financial conditions. U.S. interest rates are higher over the last two months, but we think for a good reason. Unlike the February sell-off, which coincided with rising rates due to higher inflation expectations, the recent breakout in long-end interest rates resulted from higher real rates. We believe this reflects a shift into an environment of stronger growth, but also higher volatility.
Tactical Indicators

Figure 1. Lower Equity Prices and Higher Interest Rates Tighten Financial Conditions

Goldman Sachs Financial Conditions Index
Source: Goldman Sachs, Bloomberg, Voya Investment Management, as of 10/31/18
Figure 2. U.S. Equity Valuations Have Repriced to 2016 Levels

S&P 500 Forward P/E
Source: Bloomberg, Voya Investment Management, as of 10/31/18
Figure 3. The Voya Sentiment Indicator is Signaling Oversold

Voya Sentiment Index
Source: Bloomberg, Voya Investment Management, as of 10/31/18
Portfolio Positioning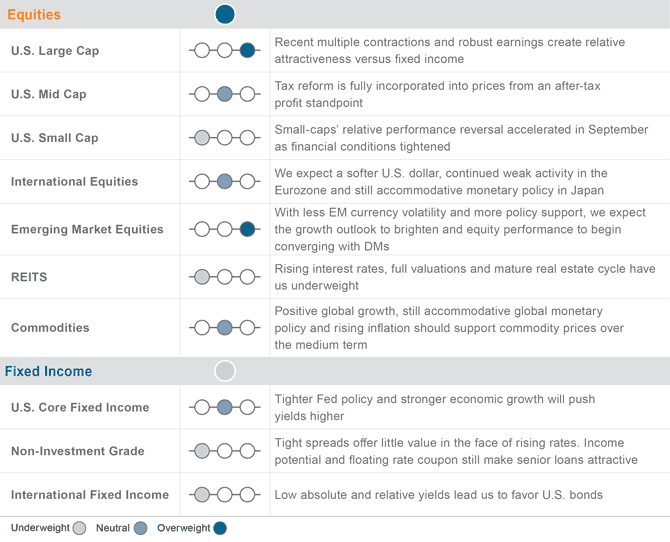 Investment Outlook
We believe the recent sell-off is an overdone technical correction. Although the market has repriced risk across the board, we do not see a material deterioration in fundamentals. The job market is booming and consumer confidence is still high. Business confidence is also high with the October ISM Non-Manufacturing index over 60, near its highest level in more than 20 years. Although the October ISM Manufacturing PMI pulled back for the second straight month to 57.7, it was from a blistering 59.8. The manufacturing sector continues to expand, just at a slightly slower rate. Corporate profits are still strong. As of November 2, with 75% of S&P 500 companies reporting, 78% and 61% had beaten earnings and revenues estimates, respectively, clocking aggregate earnings growth of more than 27%. At some point, we expect earnings growth rates will revert to their historical means, but it is important to keep in mind that growth rates slowing from their current, lofty levels should not necessitate a prolonged retreat of risk assets.
We recognize that global current activity indicators have slowed in recent months. Growth momentum in the Eurozone has eased. Part of the slowdown is due to the auto sector, which has taken a big but probably temporary hit from changes in the environmental rules that required retooling. Still, the political rhetoric in Europe and structural deficiencies leave us favoring the U.S. We have marginally increased our allocation to emerging market equities to a modest overweight based on our stable dollar outlook, easing fiscal and monetary policy in China and large valuation discounts to developed markets. One silver lining of the correction is that valuations overall have become quite cheap with the MSCI ACWI trading around 13.4x forward earnings, which puts it in the bottom quintile of the last 30 years.
Despite the drop in stocks, tighter financial conditions and signs of slightly slower growth, the U.S. economy remains strong enough to keep the Federal Reserve on course for its planned December rate hike. The most recent employment report showed wages increased by more than 3% for the first time in over a decade, making it difficult for Chairman Powell to justify a departure from the Fed's current course of action. Given the uncertainty surrounding the Fed's operating model, i.e., neutral interest rates and natural rate of unemployment versus other metrics, we will be waiting attentively for clearer forward guidance.
Our sentiment indicators have been bouncing around near oversold thresholds. This, along with a still firm global macro backdrop, potential easing in trade tensions and healthy business landscape, suggests that after the dust from the mid-term elections settles, U.S. stocks will recover much of their lost ground into the end of the year. Nevertheless, we expect more volatility ahead given the mature phase of this business cycle.
IM1112-46320-1119
Past performance does not guarantee future results.
This commentary has been prepared by Voya Investment Management for informational purposes. Nothing contained herein should be construed as (i) an offer to sell or solicitation of an offer to buy any security or (ii) a recommendation as to the advisability of investing in, purchasing or selling any security. Any opinions expressed herein reflect our judgment and are subject to change. Certain of the statements contained herein are statements of future expectations and other forward-looking statements that are based on management's current views and assumptions and involve known and unknown risks and uncertainties that could cause actual results, performance or events to differ materially from those expressed or implied in such statements. Actual results, performance or events may differ materially from those in such statements due to, without limitation, (1) general economic conditions, (2) performance of financial markets, (3) interest rate levels, (4) increasing levels of loan defaults, (5) changes in laws and regulations, and (6) changes in the policies of governments and/or regulatory authorities.
The opinions, views and information expressed in this commentary regarding holdings are subject to change without notice. The information provided regarding holdings is not a recommendation to buy or sell any security. Fund holdings are fluid and are subject to daily change based on market conditions and other factors.
Voya Investment Management Co. LLC ("Voya") is exempt from the requirement to hold an Australian financial services license under the Corporations Act 2001 (Cth) ("Act") in respect of the financial services it provides in Australia. Voya is regulated by the SEC under U.S. laws, which differ from Australian laws.
This document or communication is being provided to you on the basis of your representation that you are a wholesale client (within the meaning of section 761G of the Act), and must not be provided to any other person without the written consent of Voya, which may be withheld in its absolute discretion.