Our outlook continues to be that economic recovery is in the offing and will broaden into synchronous, global expansion. Segments of the economy that were protected from the pandemic should stay in a healthy holding pattern.
After much anticipation, 2021 has arrived, but hasn't immediately changed our situation. Although the U.S. economy increased output by a more normal quarter-over-quarter rate of 4% in 4Q20, the level of GDP is still 2.5% below its 4Q19 peak. The most recent advance report shows an 18.4% increase in business fixed investment, driven by robust residential construction fired by a red-hot housing market. Consumption rose at a much slower pace of 2% but has held up remarkably well throughout the economic downturn — thanks to many higher wage earners keeping their jobs and to generous fiscal stimulus programs that have helped support lower-wage laborers, who generally work in industries most impacted by the pandemic. These Keynesian programs have proven effective and popular. Passage of the $900 billion COVID relief bill in December is likely to be followed by an even larger, $1 trillion+ plan, which we hope will sustain us through the remainder of the pandemic, the end of which is still discomfortingly uncertain. Although vaccine distribution progress has been widely criticized, the tug of war between COVID-19 infections and vaccinations seems to be trending in the right direction. After the seven-day average peaked just shy of 2 million new daily infections on January 18, new cases declined sharply (by ~10%) through month-end. The week before President Biden took over, a daily average of roughly 912,000 COVID 19 vaccine doses was administered.
As of this writing, in early February, 6.5% of the population had received one dose, 1.2% had received two doses and the seven-day daily average had ramped up to 1.2 million doses. U.S. approvals of the Johnson & Johnson and AstraZeneca vaccines appear imminent. These vaccines require only one dose and could prove invaluable in reaching herd immunity, which most models expect to occur in 3Q21. This assumes no adverse side-effects derail public confidence, which is already shaky. It also assumes the vaccines remain effective against new coronavirus strains, some of which are proving to be more contagious and resistant to currently approved inoculations.
Tactical Indicators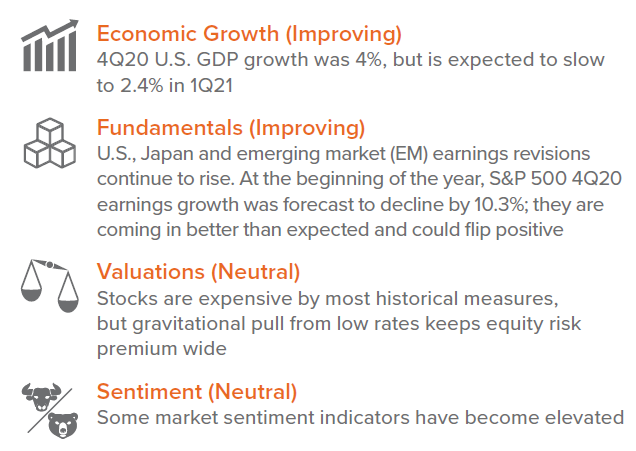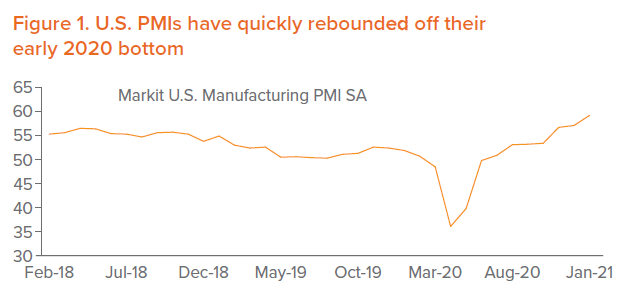 Source: Bloomberg, Voya Investment Management, as of January 31, 2021.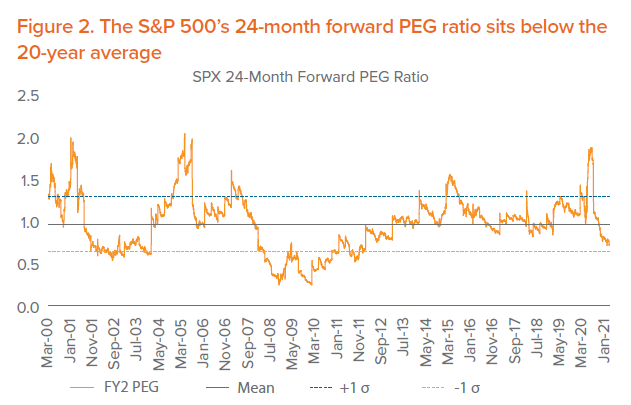 Source: Bloomberg, Voya Investment Management, as of January 29, 2021.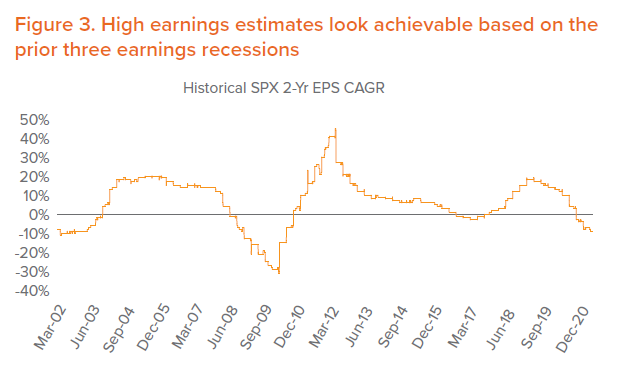 Source: Bloomberg, Voya Investment Management, as of January 31, 2021.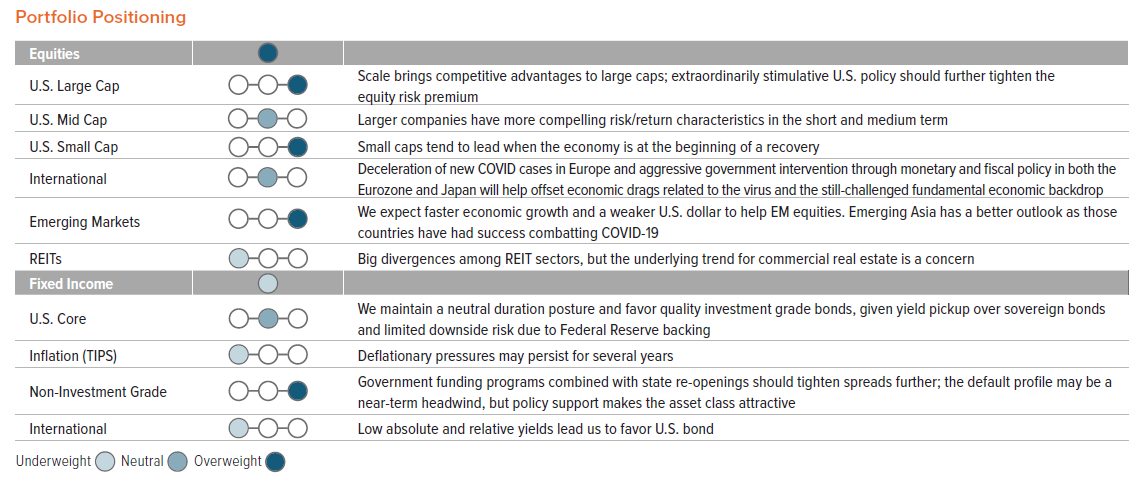 Investment Outlook
Our capital markets viewpoint continues to be that economic recovery is in the offing and will broaden into synchronous, global expansion throughout the year. Segments of the economy that were protected from, and in some cases thrived during, the pandemic should stay in a healthy holding pattern. These resilient industries have helped keep output at a bearable level and driven a swift rebound in U.S. PMIs off their early 2020 bottom (Figure 1). The unprecedented amount government intervention that held struggling sectors afloat should last until the drag from coronavirus restrictions has abated. Despite the risk of more virulent and resistant mutations, and delays with mass immunization, we are optimistic that we will see significant improvement during the summer months. This will allow depressed parts of the economy to re-engage and begin to propel activity forward as the lagged effect of fiscal fuel ignites the next leg of this new business cycle. While inflation is likely to pick up, we think it will be a gradual and largely local move higher in prices that affirms Fed policy and gets the Fed closer to achieving its minimal employment shortfall objective, rather than causing it to aggressively tighten in the face of runaway structural inflation. This would be a major positive for risky assets, as real interest rates stay anchored near or below zero while demand shoots higher. Stocks should certainly command a historical premium under this scenario, but the question is, how much?
No doubt there are signs of outright speculative bubbles in in areas such as unprofitable technology stocks, special purpose acquisition companies (SPACs) and retail investor favorites, e.g., GameStop and AMC. We recognize that some asset prices have become completely detached from fundamental value. Even at the broad market level, stocks look expensive based on most commonly followed metrics, such as the forward price earnings ratio, which stands at 22.6 for the S&P 500, almost two standard deviations above its 25-year average. Nevertheless, when we analyze these metrics within the context of negative real rates and an improving growth outlook, prices appear more reasonable. For example, measuring the P/E ratio relative to expected growth on the S&P 500, the 24-month forward PEG ratio sits at 0.75,* below the 20-year average of ~1 (Figure 2). Although the current earnings estimate two years forward is higher than average, the 25% compound annual growth rate (CAGR) currently priced in looks achievable based on the prior three earnings recessions ending in 2003, 2010 and 2017 (Figure 3). This is also consistent with current industrial production growth and its historical beta to future S&P 500 earnings. In our view, the handful of irrationally exuberant pockets notwithstanding, stock valuations still look better than bonds.
We acknowledge that strong asset market performance has been at least partially conditioned on easy money policies, the premature removal of which could catalyze a painful collapse. Nevertheless, we trust the Fed's resolve to let the economy run hot and, although we don't think inflation overshoots are likely, we believe the Fed can manage them if needed. Over the medium term, better growth and higher inflation should cause longer term rates to rise, but we think a global glut of low-yielding, developed market debt and a willingness of central banks to restart or increase asset purchases should keep the lift gradual.
Our portfolios maintain a pro-cyclical tilt across equity and fixed income holdings. U.S. small caps have been our largest overweight for several months, and despite outperforming large caps by more than 20% since the November elections, we think they will continue to do well in the burgeoning economic recovery. We added to our EM equity overweight during some temporary weakness, after hearing Treasury Secretary Yellen's comments that suggest she is open to letting market forces determine U.S. dollar direction, which we expect will soften over the coming year as the United States embarks upon another round of aggressive fiscal stimulus. The addition to EM was sourced from a lessening in our U.S. large cap equity overweight. Fixed income positioning is unchanged: we prefer high yield credit over international and inflation protected bonds. In our view, spreads are not as appetizing as they once were, but still offer an acceptable level of compensation for the risks of any meaningful widening.
IM1517063
Past performance does not guarantee future results.
This commentary has been prepared by Voya Investment Management for informational purposes. Nothing contained herein should be construed as (i) an offer to sell or solicitation of an offer to buy any security or (ii) a recommendation as to the advisability of investing in, purchasing or selling any security. Any opinions expressed herein reflect our judgment and are subject to change. Certain of the statements contained herein are statements of future expectations and other forward-looking statements that are based on management's current views and assumptions and involve known and unknown risks and uncertainties that could cause actual results, performance or events to differ materially from those expressed or implied in such statements. Actual results, performance or events may differ materially from those in such statements due to, without limitation, (1) general economic conditions, (2) performance of financial markets, (3) interest rate levels, (4) increasing levels of loan defaults, (5) changes in laws and regulations, and (6) changes in the policies of governments and/or regulatory authorities.
The opinions, views and information expressed in this commentary regarding holdings are subject to change without notice. The information provided regarding holdings is not a recommendation to buy or sell any security. Fund holdings are fluid and are subject to daily change based on market conditions and other factors.
Voya Investment Management Co. LLC ("Voya") is exempt from the requirement to hold an Australian financial services license under the Corporations Act 2001 (Cth) ("Act") in respect of the financial services it provides in Australia. Voya is regulated by the SEC under U.S. laws, which differ from Australian laws.
The distribution in the United Kingdom of this Market Insight and any other marketing materials relating to portfolio management services of the investment vehicle is being addressed to, or directed at, only the following persons: (i) persons having professional experience in matters relating to investments, who are "Investment Professionals" as defined in Article 19(5) of the Financial Services and Markets Act 2000 (Financial Promotion) Order 2005 (the "Financial Promotion Order"); (ii) persons falling within any of the categories of persons described in Article 49 ("High net worth companies, unincorporated associations etc.") of the Financial Promotion Order; and (iii) any other person to whom it may otherwise lawfully be distributed in accordance with the Financial Promotion Order. The investment opportunities described in this Market Insight are available only to such persons; persons of any other description in the United Kingdom should not act or rely on the information in this Market Insight. The Capital Markets Authority and all other Regulatory Bodies in Kuwait assume no responsibility whatsoever for the contents of this Market Insight and do not approve the contents thereof or verify their validity and accuracy.
The Capital Markets Authority and all other Regulatory Bodies in Kuwait assume no responsibility whatsoever for any damages that may result from relying on the contents of this Market Insight either wholly or partially. It is recommended to seek the advice of an Investment Advisor.
This Market Insight and the information contained herein does not constitute and is not intended to constitute an offer to sell or the solicitation of any offer to buy securities and accordingly should not be construed as such. The investment vehicle and any other products or services referenced in this Market Insight may not be licensed in all jurisdictions, and unless otherwise indicated, no regulator or government authority has reviewed this document or the merits of the products and services referenced herein. Nor does any regulator or government authority take any responsibility for the accuracy of the statements and information contained in this document or have any liability to any person for damage or loss resulting from reliance on any statement or information contained herein. This Market Insight and the information contained herein has been made available in accordance with the restrictions and/or limitations implemented by any applicable laws and regulations. This Market Insight is directed at and intended for institutional investors (as such term is defined in each jurisdiction in which the investment vehicle is marketed). This Market Insight is provided on a confidential basis for informational purposes only and may not be reproduced in any form. Before acting on any information in this Market Insight, prospective investors should inform themselves of and observe all applicable laws, rules and regulations of any relevant jurisdictions and obtain independent advice if required. This Market Insight is for the use of the named addressee only and should not be given, forwarded or shown to any other person (other than employees, agents or consultants in connection with the addressee's consideration thereof).