Sentiment-driven rallies can be powerful, but we do not yet see enough supports to sustain recent equity market gains.
February proved to be another solid month of gains for global equities following on the strength in January. The continuation of the recovery in risk assets has been most evident among U.S. small- and mid-cap equities, then among U.S. large caps; followed by shallower gains in international developed and emerging markets. In fixed income markets, credit remained the top performer with high yield and leveraged loans outpacing U.S. Treasurys.
In our view, the bulk of the rally has been driven by the severely oversold conditions that presented themselves at the end of December. A couple of key factors have lifted investor sentiment; most notably, the U.S. Federal Reserve's pivot in January to data dependency with its interest-rate path has shifted market expectations from a hiking cycle on pause to signaling a neutral stance. Additionally, uncertainty surrounding China–U.S. trade tensions has diminished, at least over the near term.
Against this backdrop, small company stocks, as measured by the Russell 2000 index, returned 5.2% on the month. The S&P 500 gained 3.2%, with strong boosts from the information technology and industrial sectors. The MSCI EAFE and Emerging Markets indexes gained 2.6% and 0.2%, respectively.
Since early March, after the disappointing February jobs report pointed to a slowing of U.S. employment growth, markets have been relatively weaker. We don't think this is a continuation of the weakness of late last year, we see it as more of a consolidation in which markets can build a more solid base.
Tactical Indicators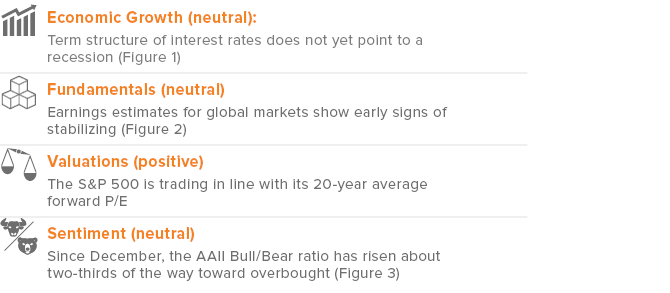 Figure 1. Since the 1950s, recessions haven't resulted unless the term structure slope moves closer to zero or lower

Source: Bloomberg and Voya Investment Management, data as of 3/1/2019
Figure 2. Earnings estimates for global markets may be stabilizing
MSCI ACWI Earnings Estimate Revision Ratio

Source: Bloomberg and Voya Investment Management, data as of 2/28/2019.
Figure 3. The AAII Bull/Bear ratio is trending toward overbought

Source: Bloomberg and Voya Investment Management, data as of 2/28/2019.
Portfolio Positioning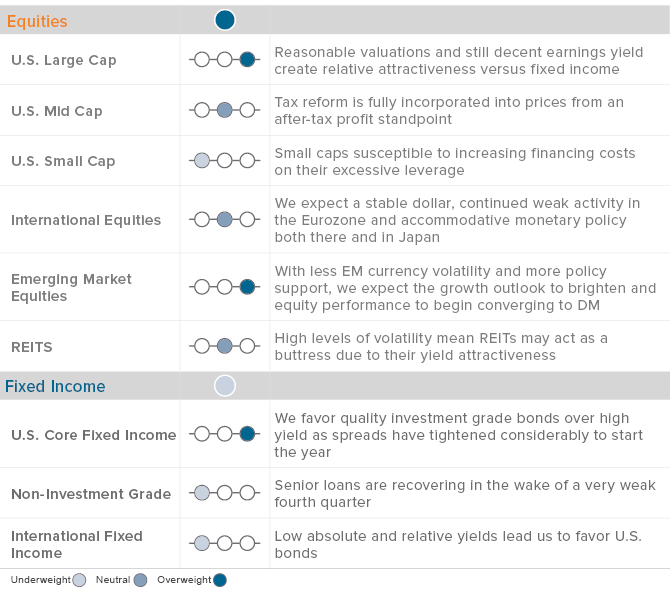 Investment Outlook
We know from history that sentiment driven rallies can be quite powerful, especially when starting at oversold readings. The question asset allocators need to ask themselves from here is: are there enough supports to sustain the recent gains?
Let's answer that by starting with the fundamentals. Most of the concerns surrounding risk markets in 4Q18 were directly related to the unfolding global growth scare. On that front, the latest purchasing managers' surveys, which we watch closely, confirm the global economy is in a sustained slowdown, with few signs of near-term upside potential. Overseas demand continues to present a downside risk as export orders have contracted for a sixth straight month.
However, the new development we find interesting is that for the first time since April 2013, the emerging markets reported a higher PMI than developed markets. With an eye toward global earnings, it is worth noting the global earnings revision ratio was nearly unchanged in February (Figure 2); to us that is important after the ratio suffered a steep fall in 2018. It may be the earliest sign of stabilizing, comparable to what we witnessed in the equity market pullbacks of 2011 and 2015, which were of similar magnitude to the one we just experienced.
In addition to the data, communications from global central banks have taken a sharp turn toward dovishness and patience on moving any further to tighten monetary policy. The Fed made that clear to financial markets in early January, and the European Central Bank did so in early March. In our view, the markets need to see evidence of green shoots in a broader set of data to continue to foster gains in risk assets.
As of early March, it looks like markets are undergoing their first pull-back of the year, with equities down approximately 2–4% across various indexes. We believe this is more of a wobble than a resumption of the 4Q18 decline — in part because valuations are not as extreme as they were in 2018, and in part because we may be seeing a buyers' strike since equities have been rallying over the past two months.
IM779729
Past performance does not guarantee future results.
This commentary has been prepared by Voya Investment Management for informational purposes. Nothing contained herein should be construed as (i) an offer to sell or solicitation of an offer to buy any security or (ii) a recommendation as to the advisability of investing in, purchasing or selling any security. Any opinions expressed herein reflect our judgment and are subject to change. Certain of the statements contained herein are statements of future expectations and other forward-looking statements that are based on management's current views and assumptions and involve known and unknown risks and uncertainties that could cause actual results, performance or events to differ materially from those expressed or implied in such statements. Actual results, performance or events may differ materially from those in such statements due to, without limitation, (1) general economic conditions, (2) performance of financial markets, (3) interest rate levels, (4) increasing levels of loan defaults, (5) changes in laws and regulations, and (6) changes in the policies of governments and/or regulatory authorities.
The opinions, views and information expressed in this commentary regarding holdings are subject to change without notice. The information provided regarding holdings is not a recommendation to buy or sell any security. Fund holdings are fluid and are subject to daily change based on market conditions and other factors.
Voya Investment Management Co. LLC ("Voya") is exempt from the requirement to hold an Australian financial services license under the Corporations Act 2001 (Cth) ("Act") in respect of the financial services it provides in Australia. Voya is regulated by the SEC under U.S. laws, which differ from Australian laws.
This document or communication is being provided to you on the basis of your representation that you are a wholesale client (within the meaning of section 761G of the Act), and must not be provided to any other person without the written consent of Voya, which may be withheld in its absolute discretion.