The first half of 2018 has seen broad retrenchment from last year's strong returns and low volatility. But if fundamentals hold up the second half may be quite different.
With 2018 half over, we are seeing broad payback for the strong returns and low volatility of 2017. So far, most of the asset classes in our investment universe, even bonds, have underperformed cash. Within equities, the United States is leading with a gain of 2.7% year to date and 0.6% for the month, in far contrast to negative returns elsewhere.
The economy and financial markets have priced different paths for the rest of the year. U.S. current economic activity indicators have rebounded since 1Q18, reflecting stimulus from tax cuts and strong corporate earnings. The rest of the world has a far more challenging outlook: leading indicators have moderated from late 2017 levels and have yet to perk up. Certain high frequency indicators are signaling downside risk from here. Add in the uncertainties of trade wars with the U.S. and electoral geopolitics, and we see a formula for a stronger U.S. dollar and weaker non-U.S. equity markets. The markets have priced in a far more sinister scenario for the rest of the world, especially the emerging markets (EM).
Trade concerns dominate the financial market narrative, with no visibility over which way matters will turn. We see three potential outcomes over the next few months. First, President Trump may back down after exacting nominal concessions from China and others. This would be the most market friendly outcome, but it looks less likely with the lapse of the July 1 deadline for a NAFTA deal. Second, the Trump administration may take on China's unfair trade practices and follow through with multiple rounds of tariffs. The news suggests this is likely the path the administration is taking — the least friendly to China and EMs. If China retaliates — as is likely — over time, growth will slow and inflationary pressures will firm. Third, the U.S. may engage in global protectionism, imposing tariffs against China and auto imports in addition to other protectionist policies. This would be the most unfavorable economic outcome and the most adverse for financial markets. Developments are still unfolding and July is a key month for these actions (Figure 1).
Tactical Indicators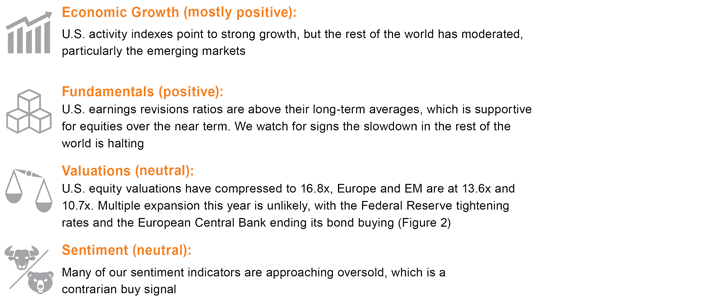 Figure 1. Economic Policy Uncertainty Looms as a Critical Factor in Market Expectations

Baker, Bloom and Davis Economic Policy Uncertainty Index1
Source: Bloomberg, Voya Investment Management, data as of 6/30/2018.
Figure 2. P/E Multiples are Moderating outside the U.S., Particularly among Emerging Markets

Source: FactSet, Voya Investment Management, data as of 6/30/2018.
Figure 3. Investor Sentiment Indicators are Trending to Oversold Readings

Source: Credit Suisse, Voya Investment Management, data as of 6/30/2018.
Portfolio Positioning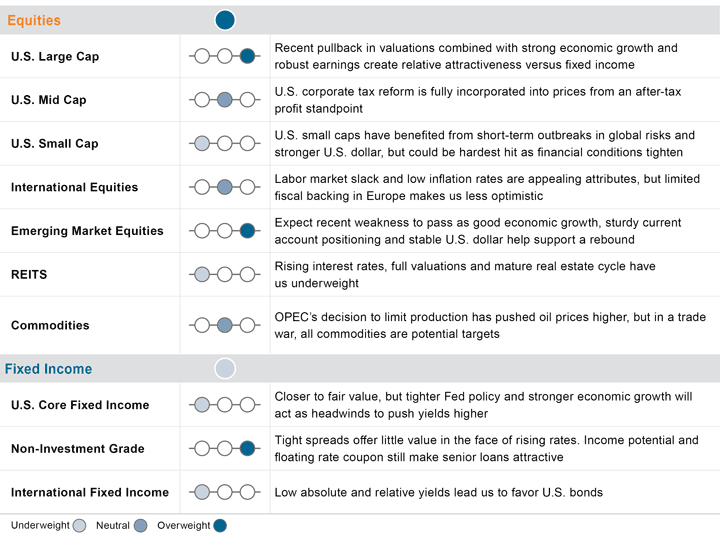 Investment Outlook
Market performance and alpha generation have been unusually poor in the first half 2018. A period of such sweeping weak equity and bond returns is unusual — especially when, despite numerous country-specific stresses, corporate profits look robust. We remain mostly long growth assets but have rotated some EM equity exposure into U.S. equities and cash. The yield available on shorter term debt has become a viable investment option with higher rates. We view this as a tactical move until clarity emerges on fundamentals for the rest of the world and the likelihood of the various trade war scenarios.
Our models have been vacillating between mid- and late- business cycle readings over the course of this year. The relative strength of domestic data has flipped the U.S. back to mid-cycle, which corresponds with equity returns that should outpace bonds handily. However, models cannot pick up all measures of geopolitics and trade wars. If the high frequency activity indexes moderate enough — as a result of uncertainty and corporate retrenchment due to a wait and see approach on tariffs — our indicators would move to late-cycle rather quickly. It is a risk that we are monitoring closely. Late-cycle does not necessarily mean financial assets are set up for a swift fall, but it would lean us toward the narrative that equity markets in the U.S. are getting closer to a broad topping process. In our view, we are not there yet.
There are key risks besides trade conflict, such as complicated U.S. politics with the mid-term elections, inflation overshoots triggering faster Fed tightening and Italian politics throwing into question the efficacy of the eurozone project. Markets have priced in a lot of bad news, as illustrated by the paltry year-to-date returns in U.S. equities despite two back-to-back quarters of over 20% earnings growth. Our investor sentiment indicators are not at panic levels yet, but getting there (Figure 3). If the fundamentals hold up and the rest of the world starts to improve, the second half of 2018 can be quite different from the first.
1 The Baker, Bloom and Davis Economic Policy Uncertainty Index is based on newspaper archives from Access World New's NewsBank service. The NewsBank Access World News database contains the archives of thousands of newspapers and other news sources from across the globe. While NewsBank has a wide range of news sources, from newspapers to magazines to newswire services, analysis is conducted using only U.S. newspaper sources. These newspapers range from large national papers like USA Today to small local newspapers across the country. The index is constructed based on the number of articles that contain at least one term from each of three sets of categories. The first set contains the terms "economic" or "economy." The second contains the terms "uncertain" or "uncertainty." The third set contains the terms "legislation," "deficit," "regulation," "Congress," "Federal Reserve" or "White House."
Past performance does not guarantee future results.
This commentary has been prepared by Voya Investment Management for informational purposes. Nothing contained herein should be construed as (i) an offer to sell or solicitation of an offer to buy any security or (ii) a recommendation as to the advisability of investing in, purchasing or selling any security. Any opinions expressed herein reflect our judgment and are subject to change. Certain of the statements contained herein are statements of future expectations and other forward-looking statements that are based on management's current views and assumptions and involve known and unknown risks and uncertainties that could cause actual results, performance or events to differ materially from those expressed or implied in such statements. Actual results, performance or events may differ materially from those in such statements due to, without limitation, (1) general economic conditions, (2) performance of financial markets, (3) interest rate levels, (4) increasing levels of loan defaults, (5) changes in laws
and regulations, and (6) changes in the policies of governments and/or regulatory authorities.
The opinions, views and information expressed in this commentary regarding holdings are subject to change without notice. The information provided regarding holdings is not a recommendation to buy or sell any security. Fund holdings are fluid and are subject to daily change based on market conditions and other factors.
Voya Investment Management Co. LLC ("Voya") is exempt from the requirement to hold an Australian financial services license under the Corporations Act 2001 (Cth) ("Act") in respect of the financial services it provides in Australia. Voya is regulated by the SEC under U.S. laws, which differ from Australian laws.
This document or communication is being provided to you on the basis of your representation that you are a wholesale client (within the meaning of section 761G of the Act), and must not be provided to any other person without the written consent of Voya, which may be withheld in its absolute discretion.
©2018 Voya Investments Distributor, LLC • 230 Park Ave, New York, NY 10169 • All rights reserved.
CMMC-MAP-0618 071018 • IM0705-43276-0719