Before re-entering risk markets, we await signals of adequate return potential from two of three pillars of our investment process.
Risk assets sold off markedly during December and the rates markets have fully repriced Federal Reserve rate hikes out of the market for all of 2019. The United States led the charge lower as many global equity markets nursed losses during the year. Among the causes of weakness were economic deceleration in the U.S., weak data from China, trade geopolitics and the ongoing partial U.S. government shutdown.
Many indicators that tend to turn first around business cycle peaks are flashing red in several economies. The U.S. Treasury yield curve is flat by many measures; by some, it is inverted: the 12-month Treasury bill yield currently is higher than some other maturities. World trade volumes have slowed further in recent months and December business surveys remained weak in most major economies.
Credit markets have not been immune to weakness. High yield spreads have gapped wider and in the investment grade sector spreads are widening on credit default swaps of some of the highest quality debt issuers. Concerns about covenant-lite issuance have pressured leveraged loans. One of the few perceived "safe havens" have been U.S. Treasurys, as investors sought any port in the storm. Ten-year Treasury yields have declined to 2.68% from a high of 3.24% in early November.
The composition of returns throughout December is noteworthy. The U.S. dollar held surprisingly steady, given the gyrations in U.S. markets. Emerging market equities, while down, fared better than developed markets and the U.S. (Figure 1), perhaps because EMs have been under steady pressure since June. We are closely watching the stimulus China has implemented to arrest its economic slowdown — while not yet on the scale seen in early 2016, we think it involves a meaningful number of initiatives. We are looking for a turn in the Chinese data in a few months.
Tactical Indicators

Figure 1. Emerging Market Equities Recently Outperformed Developed Markets

Source: Bloomberg, Voya Investment Management, data as of 12/31/2018.
Figure 2. U.S. Equity Valuations are Trading at Five-Year Lows
S&P 500 Forward P/E Ratio

Source: Bloomberg and Voya Investment Management, data as of 12/31/2018.
Figure 3. Negative Investor Sentiment Outweighs Positive Sentiment by the Widest Spread Since 2016

Source: Bloomberg and Voya Investment Management, data as of 12/31/2018.
Portfolio Positioning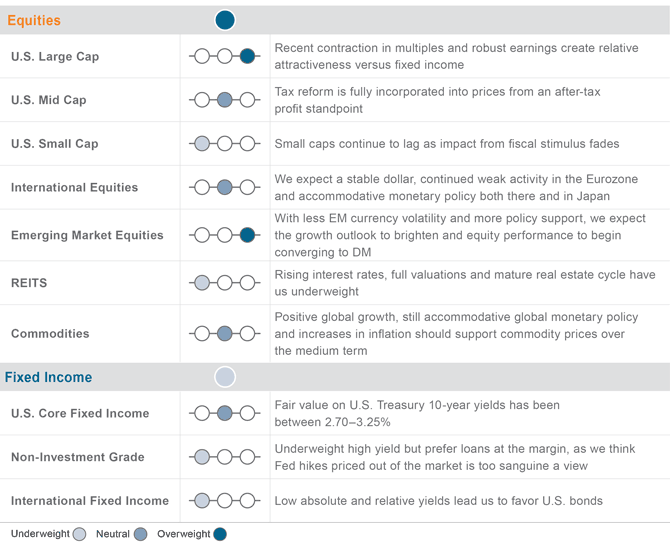 Investment Outlook
Looking ahead, there is intense movement in the equity and bond markets, creating a lot of day-to-day volatility for investors to digest. This is where relying on our investment process of evaluating valuations, fundamentals and sentiment is critical. The quantitative data show on most measures equities have de-rated meaningfully over the past 12 months. At 14.5 times forward earnings, the U.S. equity market has not been this inexpensive since late 2013 (Figure 2). The difficulty investors have with stepping in to buy at current valuations is an unclear handle on the earnings part of the ratio. Earnings revisions have been falling steadily, but even so, top-down forecasts are for 7% earnings growth in 2019, which looks to be a bit high in our view.
In terms of fundamentals, our models show rising probabilities of recession — not to the levels where one is imminent, but the deceleration in activity due to lapsing fiscal stimulus and Fed rate hikes is in fact biting. One only needs to see the cooling in the housing and auto sectors to observe the effect the rise in short-term rates has delivered over the past year. We need to see a trough in earnings revisions in the U.S. and globally, and a healing in the credit markets among other factors, to put in a durable bottom to equities. Lastly, investor sentiment is starting to reach oversold readings on a short-term view — but not yet as severely oversold as expected given the damage that has been inflicted on equities (Figure 3).
To be sure, sentiment can be a fickle factor, and there may be a meaningful counter-trend underway — sparked by dovish comments from the Fed. In these types of volatile conditions, to accept the risk of re-entering risk markets, we generally look for signals of adequate return potential from two of the three pillars of our investment process. Therefore, we think a better clearing price for equities will unfold in the first half of 2019.
IM708254
Past performance does not guarantee future results.
This commentary has been prepared by Voya Investment Management for informational purposes. Nothing contained herein should be construed as (i) an offer to sell or solicitation of an offer to buy any security or (ii) a recommendation as to the advisability of investing in, purchasing or selling any security. Any opinions expressed herein reflect our judgment and are subject to change. Certain of the statements contained herein are statements of future expectations and other forward-looking statements that are based on management's current views and assumptions and involve known and unknown risks and uncertainties that could cause actual results, performance or events to differ materially from those expressed or implied in such statements. Actual results, performance or events may differ materially from those in such statements due to, without limitation, (1) general economic conditions, (2) performance of financial markets, (3) interest rate levels, (4) increasing levels of loan defaults, (5) changes in laws and regulations, and (6) changes in the policies of governments and/or regulatory authorities.
The opinions, views and information expressed in this commentary regarding holdings are subject to change without notice. The information provided regarding holdings is not a recommendation to buy or sell any security. Fund holdings are fluid and are subject to daily change based on market conditions and other factors.
Voya Investment Management Co. LLC ("Voya") is exempt from the requirement to hold an Australian financial services license under the Corporations Act 2001 (Cth) ("Act") in respect of the financial services it provides in Australia. Voya is regulated by the SEC under U.S. laws, which differ from Australian laws.
This document or communication is being provided to you on the basis of your representation that you are a wholesale client (within the meaning of section 761G of the Act), and must not be provided to any other person without the written consent of Voya, which may be withheld in its absolute discretion.