Equities exhibited broad based strength in July as the outlook for global economic growth improved. In the United States, Q2 GDP grew 4.1%, the fastest pace since 2014. The numbers are particularly impressive given low inventories, which bodes well for Q3, as companies look to rebuild goods for sale. In addition, unemployment claims fell to their lowest level in almost 50 years as the labor markets continued to tighten. Despite full employment in the U.S., there have been only modest increases in wages. Therefore, we expect inflation to remain under control, given the still low labor force participation rate and recent strength in the U.S. dollar.
On top of the solid growth numbers, U.S. corporate earnings are posting better than expected results. Top-line growth of almost 9% illustrates this strength. Some companies are citing concerns over tariffs and uncertainty over geopolitical developments, which bear watching. While it was encouraging to see the U.S. and eurozone come together and agree to hold off pursuing tariffs as the two sides engaged in negotiations, we think the trade rhetoric with China is likely to continue. There are a number of trade-related flash points coming up in August that may give some clarity to the depth and duration of the disputes. As it stands now, China has been easing policy by cutting its reserve-requirement ratio and reducing income taxes as precautions against a potentially protracted battle.
Tactical Indicators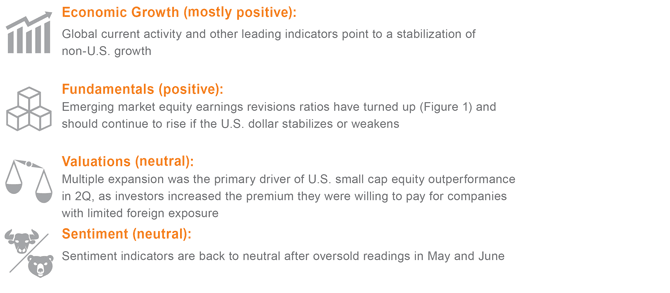 Figure 1. Emerging Market Equity Earnings Revisions Ratios Portend better Forward Returns

Source: Factset, data as of 08/03/2018.
Figure 2. Implied Dollar Position through CFTC Crosses Appears Extended

Source: Bloomberg, CFTC, Voya Investment Management, data as of 7/31/2018.
Figure 3. U.S. Treasury Term Structure Spreads Send Different Signals

Source: Bloomberg, Voya Investment Management, data as of 7/31/2018.
Portfolio Positioning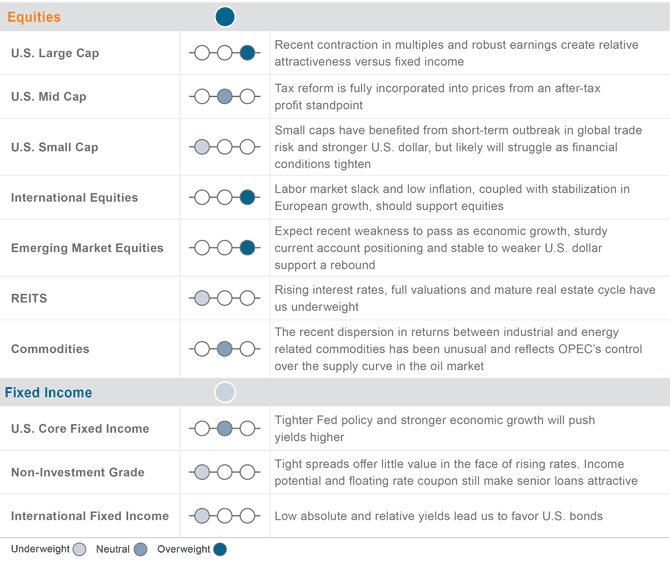 Investment Outlook
Our optimistic outlook for stocks is grounded in a continuation of the U.S. and global expansion. There is no arguing that it has lasted an unusually long time, but old age is not reason enough to think it is going to stop. Instead, we base our analysis on the fundamental picture, which shows several supports including a flat Phillips curve, high corporate free cash flow and a lack of private sector imbalances. We believe pro-business fiscal policies will lead to an increase in productivity, and the Federal Reserve's disciplined, data-dependent monetary policy will allow real growth to reach a higher trend.
A stable U.S. economy should make for a generally healthy rest of the world. We maintain our overweight to equity risk assets. We have trimmed portfolios' fixed income credit exposures, reducing them into a strong high yield market in July. With corporate bond spreads near cycle tights, we prefer allocating our risk budget to equities, which appear to offer a better risk/reward in our view. We think that some of the market dynamics that drove relative performance over the first half of 2018 may be abating. Momentum trades, including growth over value and small cap over large, look to be petering out in terms of strength. Emerging market equities also seem ready to stage a rebound. A stable or weaker U.S. dollar is the key to this view. With net long U.S. dollar currency futures positioning approaching extended levels (Figure 2) and growth differentials converging, we see a scenario that would lead to a weaker dollar and improved emerging market equity performance.
As the effects of pro-cyclical fiscal policy fade, monetary policy becomes more important and the impact of a mistimed monetary response accentuated. Fed officials are watching unit labor costs closely and have suggested that if the yield spread between twoand ten-year Treasurys continues to narrow, it will not necessarily cause them to stop hiking rates. As support, an influential Fed paper cites a divergence between commonly referenced long-term Treasury spreads and short-term forward spreads, which measure the market's expectations for the direction of near-term monetary policy (Figure 3). We have found that with any yield curve analysis, inversion precedes a recession, but with too varied and lagged time decay to be useful as a fundamental indicator. We expect the Fed to continue along its current path of projected hikes, and the Fed funds target rate to peak around 3%. We are optimistic that the Fed will recalibrate policy as needed, paying close attention to the incoming data.
IM0802-43958-0819
1 The Baker, Bloom and Davis Economic Policy Uncertainty Index is based on newspaper archives from Access World New's NewsBank service. The NewsBank Access World News database contains the archives of thousands of newspapers and other news sources from across the globe. While NewsBank has a wide range of news sources, from newspapers to magazines to newswire services, analysis is conducted using only U.S. newspaper sources. These newspapers range from large national papers like USA Today to small local newspapers across the country. The index is constructed based on the number of articles that contain at least one term from each of three sets of categories. The first set contains the terms "economic" or "economy." The second contains the terms "uncertain" or "uncertainty." The third set contains the terms "legislation," "deficit," "regulation," "Congress," "Federal Reserve" or "White House."
Past performance does not guarantee future results.
This commentary has been prepared by Voya Investment Management for informational purposes. Nothing contained herein should be construed as (i) an offer to sell or solicitation of an offer to buy any security or (ii) a recommendation as to the advisability of investing in, purchasing or selling any security. Any opinions expressed herein reflect our judgment and are subject to change. Certain of the statements contained herein are statements of future expectations and other forward-looking statements that are based on management's current views and assumptions and involve known and unknown risks and uncertainties that could cause actual results, performance or events to differ materially from those expressed or implied in such statements. Actual results, performance or events may differ materially from those in such statements due to, without limitation, (1) general economic conditions, (2) performance of financial markets, (3) interest rate levels, (4) increasing levels of loan defaults, (5) changes in laws and regulations, and (6) changes in the policies of governments and/or regulatory authorities.
The opinions, views and information expressed in this commentary regarding holdings are subject to change without notice. The information provided regarding holdings is not a recommendation to buy or sell any security. Fund holdings are fluid and are subject to daily change based on market conditions and other factors.
Voya Investment Management Co. LLC ("Voya") is exempt from the requirement to hold an Australian financial services license under the Corporations Act 2001 (Cth) ("Act") in respect of the financial services it provides in Australia. Voya is regulated by the SEC under U.S. laws, which differ from Australian laws.
This document or communication is being provided to you on the basis of your representation that you are a wholesale client (within the meaning of section 761G of the Act), and must not be provided to any other person without the written consent of Voya, which may be withheld in its absolute discretion.