In the drive for ESG investing, a gap has arisen between corporate bond and securitization markets, leaving investors to wonder if securitizations will ever leave the station. We see this as an opportunity to blaze new trails and influence better outcomes for investors, the environment and society.
Highlights
Behind the curve… Securitized debt investors have been hampered in their ability to incorporate ESG factors due to the complexity of the market, a lack of data and changing classification standards.
…but gaining momentum: Activity in ESG-branded securitized products is accelerating, with certain issuers offering innovative investments promoting sustainable loans and environmentally friendly assets.
The Voya approach: We analyze ESG factors across three dimensions – collateral, parties and structure – providing a framework for delivering additional alpha while supporting practices that can foster a larger, more sustainable, more inclusive economy.
ESG opportunities in a sector left behind
Securitized debt is an important part of the fixed income universe, providing a sought-after alternative to corporate credit. These securities – representing large pools of mortgages, loans or other assets – can provide income, mitigate risk and diversify portfolios. Securitized debt may also help investors manage rising interest rates, as certain sectors tend to be affected more by credit conditions than interest rates, while others have relatively short durations.
However, when it comes to integrating environmental, social and governance (ESG) considerations, securitized debt lags corporate credit and equity markets (Fig. 1). With investment opportunities permeating most pockets of the U.S. economy, we see substantial opportunity to take a pioneering approach in the space – one that better protects both underlying borrowers and investors in securitization transactions.
Figure 1: Securitized credit has lagged other asset classes in ESG integration
Adoption curve of ESG investing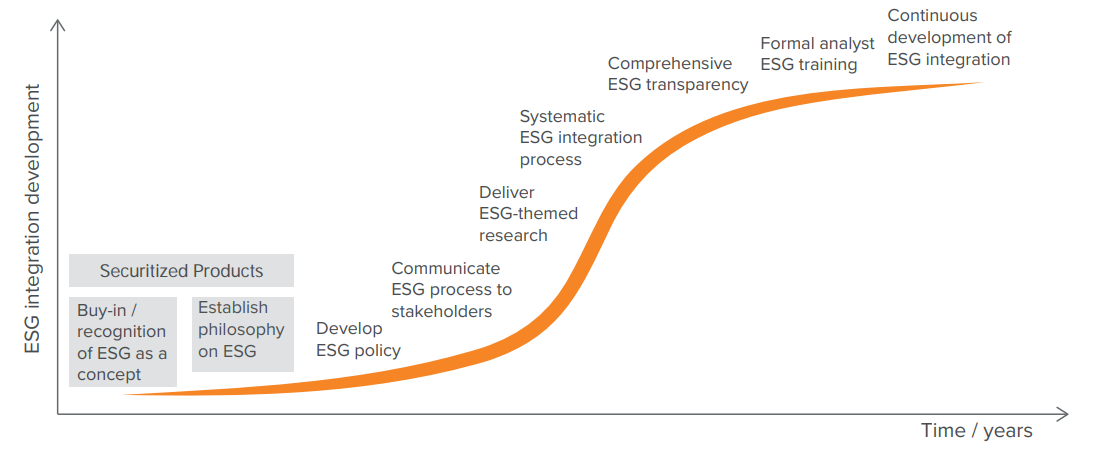 At May 2021. Source: UN Principles for Responsible Investment, "ESG incorporation in securitized products: The challenges ahead."
According to the UN-supported Principles for Responsible Investment (PRI), the biggest reason for the slow uptake of ESG incorporation is the complexity of the securitized market. ESG information providers offer relatively little coverage of securitized products, often making it difficult to obtain sufficient data to conduct robust ESG due diligence. Many managers simply lack the resources and tools to precisely quantify ESG-related metrics across various pools of securitized collateral.
Furthermore, it is important to properly scrutinize transactions that have been labeled "ESG." Because ESG designation standards are evolving, investors shouldn't simply rely on a label as an indicator that a given security aligns with their ESG objectives. We believe the growing attention paid to these issues, as well as the desire among investors to influence positive environmental and social change, will prompt more rigorous and consistent standards over time.
ESG-branded securitized products are gaining momentum
Governance enhanced through stricter regulation
Securitized debt markets still have scars from the financial crisis 14 years ago, as some of these sectors were at the epicenter of problems in the global financial system. That experience has prompted many changes directly related to ESG, with governance factors benefiting from stronger regulation across the value chain of securitized product markets.
For example, the Dodd-Frank Act (2010) introduced significant changes to the RMBS market through initiatives to promote fair lending and eradicate predatory lending, improving the sustainability of mortgage lending. New credit risk retention requirements and enhanced regulation of credit ratings agencies have also improved investor protections across ABS, CMBS and non-qualified-mortgage RMBS markets.
These and other initiatives (Fig. 2) have helped the securitization ecosystem become more resilient, reducing the likelihood of a scenario like 2008 arising again.
Figure 2: The evolution of securitized credit: Increasing legislative and regulatory clarity
Source: Voya Investment Management.
An evolving ESG landscape
Although securitized products with ESG designations still represent only a small portion of total issuance, activity is accelerating, as market participants are eager to embrace ESG considerations. We are seeing promising innovations among government-sponsored enterprises (GSEs) and certain CLO managers, ABS issuers and private-label MBS issuers. However, it is important that issuers follow a methodology that has real, demonstrable merit. This is where ESG-minded investors can play a key role in sponsoring transactions and issuers that represent ESG best practices.
The most significant ESG opportunities we see are in the $10 trillion securitized mortgage market, spanning commercial and residential property types, including agency and nonagency/private-label markets. Considering that real estate and manufacturing are by far the largest contributors to global carbon emissions – and that many developed markets have struggled to provide equitable access to housing – we believe continued progress is critical for these major securitized sectors.
Environment in focus through green real estate
U.S. GSEs Fannie Mae and Freddie Mac have major incentives to focus lending activities on energy-efficient properties — particularly in commercial assets, but increasingly in residential assets as well. In April 2020, Fannie Mae expanded its green-certified bond issuance program to include MBS of single-family homes in addition to multifamily properties. The program consists exclusively of mortgages for newly constructed properties with efficiency ratings above a certain threshold. While composing only a fraction of GSE issuance, the program represents a viable starting point from which to grow. Indeed, 50% of GSE scoring criteria in 2022 focus on "promoting sustainable and equitable access to affordable housing."1
In commercial real estate, there has been a substantial shift towards deals with larger percentages of collateral that are explicitly environmentally friendly and have more sustainable components to the property. This is particularly true in the multifamily property type, influenced by GSE scorecard dynamics noted above. The movement is also spreading to property types such as office and hospitality, evidenced by a large increase in CMBS backed by loans with LEED certification2 or some other green stamp indicating the nature of the underlying property.
Societal goals achieved through transparency in mortgage finance
On the societal front, we are seeing significant progress beyond the landscape-altering regulation and enforcement that followed the financial crisis. Reforms include better transparency and access to information, allowing the public to assess how GSE-backed deals promote affordability, inclusivity and fair lending decisions.
An example: government agency Ginnie Mae now includes loan-level information fields that allow investors to identify pools containing mortgages from low- and moderate income areas. This transparency empowers investors to express support for a more inclusive approach to mortgage lending. Just as importantly, related parties – including GSEs, lenders and servicers – are all motivated to continue to deliver enhanced disclosures, providing investors opportunities for active engagement as the evolution of ESG in securitized credit continues.
Sustainable lending in ABS
We expect continued innovation across ABS subsectors to drive more clearly branded forms of ESG-friendly issuance for investors to support (Fig. 3). For example:
Global adoption of electric vehicles has led to new types of green, ESG-branded auto ABS transactions.
A student loan transaction was recently awarded an ESG designation based on lending principles oriented toward positive societal impact.
The growing solar energy finance market offers a potentially viable source of green, ESG-branded issuance with real merit – although financing must be offered in a sustainable manner that considers consumers' ability to repay.
Figure 3: Recent examples of ESG-labeled securitized products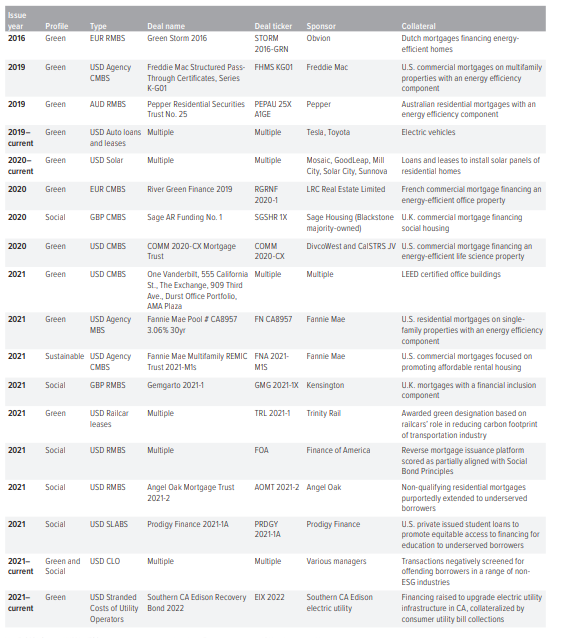 May 5, 2021. Source: UNPRI—"ESG incorporation in securitized products: The challenges ahead;" Voya Investment Management.
Voya's approach to underwriting ESG principles
Despite the steep hill for assessing ESG factors in securitized markets, we believe the potential to positively influence the environment and society – while simultaneously better serving the needs of our clients – offers an invigorating incentive. Consistent with our firm-wide integration of ESG-consistent values, Voya Investment Management seeks to achieve this through deep expertise in sector-level analysis, portfolio management and execution.
For each opportunity, we evaluate the security across three key dimensions – the collateral pool, the parties involved and the structure that surrounds it – incorporating both traditional financial metrics and ESG considerations (Fig. 4). For example, we may consider whether the assets securing the loans have a positive, negative or neutral impact on environmental issues such as climate change, pollution, degradation and resource depletion. This analysis informs the way we engage with issuers, helping us promote lending practices we believe may mitigate environmental risks (and their attendant financial risks).
Figure 4: We evaluate ESG factors across three key dimensions
ESG impact assessment may be either positive or negative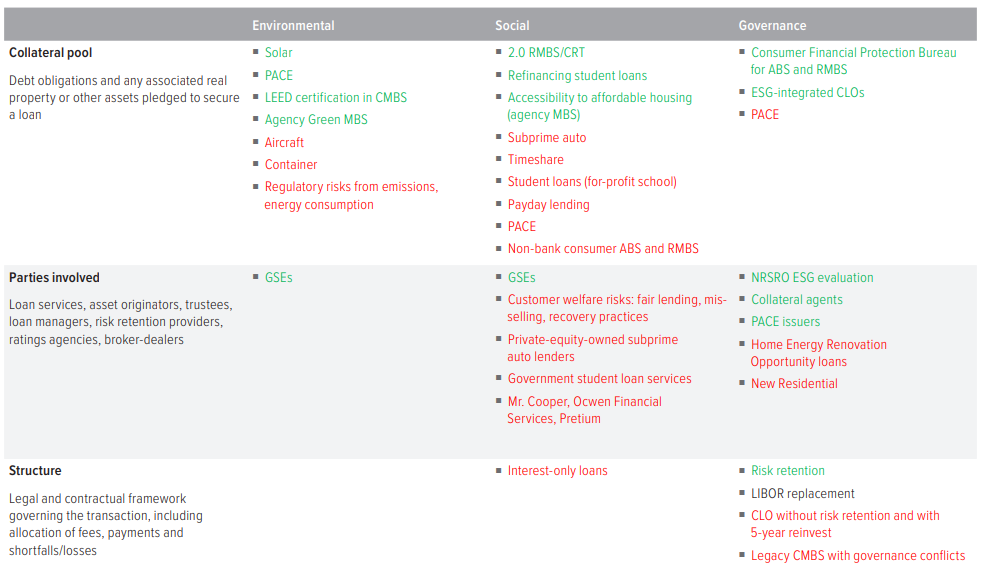 As of February 28, 2022. Source: Voya Investment Management. PACE: Property-assessed clean energy financing (C-PACE for commercial real estate). A nationally recognized statistical ratings organization (NRSRO) is a credit rating agency registered and approved by the SEC.
Corporate engagement: Investing with impact
Our scale and expertise provide opportunities to work with issuers and the broker dealer community to integrate ESG considerations when originating and servicing collateral or structuring new transactions. In some cases, we may find competing forces across the dimensions noted above, such as a favorable collateral pool wrapped in a concerning structure.
For example, a recent offering by a solar operator scored well for the potential environmental benefit of its collateral. However, the structure included loans with an interest-only period, which make installing solar panels more affordable but could set up consumers for larger-than-expected loan payments after the promotional period expires — a dynamic that contributed to the 2008 credit crisis. We decided not to invest due to the bad precedent it could set for other lenders, and we communicated our view to the issuer to encourage improvements to future loan structuring decisions.
Solar energy represents a potentially powerful and still-growing market. California, for example, will require all new commercial and multi-family properties to install solar panels by 2030. As more consumers seek to finance solar equipment, we believe consideration of their ability to repay should be at the core of loan and lease products – arguably the most fundamental lending principle for residential mortgages in the wake of the financial crisis. We continue to engage issuers consistently and with passion on this topic, as we do on the residential side with mortgage credit
Improving both consumer outcomes and market stability
Having invested in the securitized markets for decades, we saw risks evolving before ESG became a popular initialism. Our philosophy is to consider the 'greater economic good' in addition to the return potential of an individual deal. Even more basically, we hope to improve the durability and resilience of our economy over time. We believe it is incumbent on financing markets to be a part of that story, and securitization offers a unique opportunity to do so.
Initially, social considerations were our primary motivator in addressing the sustainability of securitized fixed income; this followed the financial crisis and its devastating outcomes for housing markets and for those who suffered changes to their social standing, wealth and credit rating. As the impact of climate change has become more apparent, investment risk from natural disasters has also become a driving motivation in our approach to ESG.
At Voya, we seek to invest in loans that are underwritten properly, avoiding those with terms that may trap borrowers into agreements they cannot fulfill. Over the course of economic cycles, irresponsible lending may amplify economic crises, exerting a very real human toll along with potentially significant market and economic consequences, shrinking the pie for all.
We believe investors can wield their substantial collective influence to change the way actors behave across the lending market, helping to sustain long-term economic prosperity.
ESG activity in securitized markets likely to accelerate
Securitized debt markets have a long way to go in the incorporation of ESG analysis, but we are confident momentum will continue to build. In addition to social motivations for integrating ESG into our investment process, we also see the direction of travel. For example, one of the largest U.S. banks recently engaged us in creating a securitized issuance program focusing on addressing environmental risks by promoting the sponsorship of deals with a green objective.
As institutional investors and their consultants demand greater ESG standards from securitized debt managers, we anticipate asset managers and financial institutions will face increasing competitive pressure to be ahead of the game. We are committed to leading by example, pushing for positive change. Ultimately, we believe this will help us be better investors and stewards of our clients' capital.
Closing the ESG gap between securitized credit and corporate bonds will take time, but we see attractive potential in providing benefits to investors while supporting sustainable financial practices.