Introduction
January 1, 2022 marked a significant milestone in the transition from LIBOR to alternative reference rates. As of that date, publication ceased permanently for 24 LIBOR settings — a "setting" being a combination of a maturity tenor and a currency denomination. What's more, newly enacted restrictions took effect regarding U.S. dollar LIBOR usage for new contracts. After years of coordination among regulators, legislators and market participants, the transition to alternative reference rates appears to be progressing smoothly. Though much work remains as we head toward the ultimate cessation of U.S. dollar (USD) LIBOR in June 2023, U.S. markets have coalesced around the Secured Overnight Financing Rate (SOFR) as the primary USD LIBOR replacement.
Industry changes at year-end
Most LIBOR settings cease
As of December 31, 2021, the ICE Benchmark Administration (IBA), LIBOR's administrator, marked the end of panel bank submissions for all LIBOR settings except USD LIBOR in overnight, one-, three-, six- and twelve-month tenors, which IBA will continue to publish on a representative basis until the end of June 2023. Among these LIBOR settings, USD LIBOR of one-week and two-month tenors have ceased publication. Figure 1 clarifies the current status of LIBOR settings.
Figure 1. Most LIBOR settings are now discontinued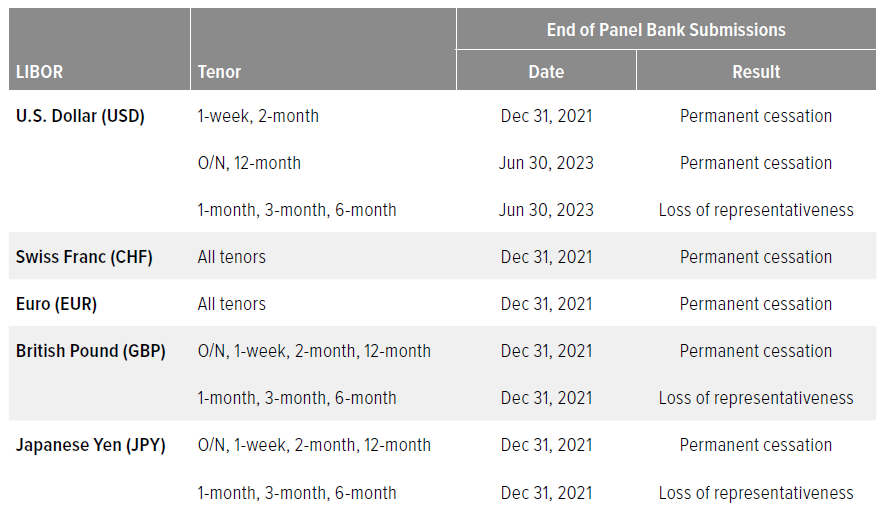 The surviving GBP and JPY settings will be calculated synthetically using a methodology that relies upon spread-adjusted forward-looking term risk-free rates (RFRs) rather than panel bank submissions. Publication of synthetic JPY LIBOR will cease after 2022; continued publication of synthetic GBP LIBOR is not guaranteed, but will be subject to annual review. The remaining U.S. dollar settings will continue to be calculated using panel bank submissions until cessation. It's important to realize that the synthetic rates — as well as the remaining USD LIBOR settings — only will be available for use in legacy products. For more details, see the UK Financial Conduct Authority's January 4, 2022 release: Changes to LIBOR as of end-2021 | FCA.
Banking regulation now in effect
U.S. banking regulatory guidance of no new LIBOR issuance beyond 2021 is now in effect [Statement on LIBOR Transition – November 30, 2020 (federalreserve.gov)]. Federal and state banking regulators issued a joint statement that included this advice on managing the LIBOR transition: "Given LIBOR's discontinuance, the agencies believe that entering into new contracts, including derivatives, that use LIBOR as a reference rate after December 31, 2021, would create safety and soundness risks, including litigation, operational, and consumer protection risks." FDIC FIL-70-2021: Joint Statement on Managing the LIBOR Transition (October 2021).
Certain new USD LIBOR contracts still could be issued in scenarios where a contract meets prescribed exception criteria of the Federal Reserve Bank, or a contract is written among nonbank parties that are not overseen by U.S. banking regulators. 
The Financial Conduct Authority has banned the use of all USD LIBOR settings in the UK, but also allowed for certain exceptions. Article 21A Benchmarks Regulation – Notice of prohibition on new use of a critical benchmark (fca.org.uk).
Non-USD cleared swaps converted
Moving to trading concerns, December saw revision of non-USD LIBOR swap conversions by swap clearinghouse LCH and the Chicago Mercantile Exchange (CME). The CME issued a statement last November, now in effect, that details its procedures for converting non-U.S. dollar, over-the-counter-cleared LIBOR swaps into appropriate successor risk-free rates, in accordance with the fallback provisions of the International Swaps and Derivatives Association (ISDA): [Chadv21-434.pdf (cmegroup.com)]. LCH has confirmed that, while new SwapClear transactions linked to an in-scope CHF/EUR/JPY or GBP LIBOR are no longer eligible for registration at SwapClear after their cut-off dates, LCH intends to continue supporting time-limited eligibility for legacy swaps, consistent with certain criteria: Statement on LCH's Position in respect of LIBOR® Contracts denominated in CHF, EUR, GBP and JPY and submitted for registration at LCH subsequent to the completion of LCH's Conversion Processes | LCH Group.
SOFR acceptance expands
SOFR volume has increased rapidly and now trades in all significant floating-rate market segments in which Voya transacts (Figure 2). A Barron's article published on February 3 quoted Tom Wipf, the chairman of the Alternative Reference Rates Committee (ARRC): "Over the year-end deadline, we've seen further progress. Use of SOFR has continued to accelerate, particularly in the interest rate swap and futures markets. And the pipeline of new loan and securitizations activity appears to have shifted away from Libor toward SOFR." Those with a Barron's subscription may want to check out the story at this link: Libor Is Done. But Legacy Contracts Are Still a Problem. | Barron's (barrons.com).
Figure 2. SOFR rates and volumes are aligning with market needs
Average daily volume and open interest: 3-month and 1-month SOFR futures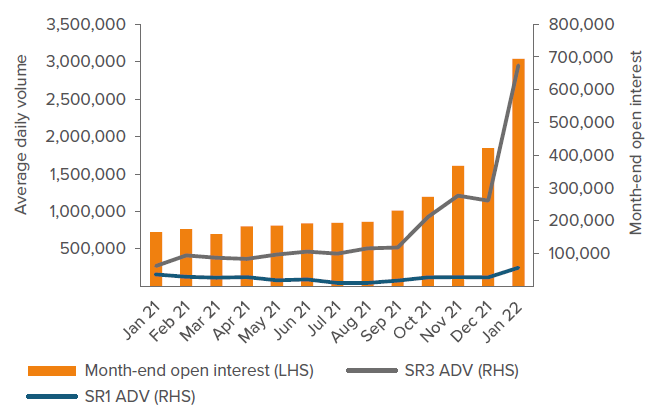 Legislative measure advances
Federal LIBOR fallback legislation, H.R. 4616, passed the House of Representatives in late 2021 and has moved to the Senate. If it passes the Senate, this legislation will help market participants by reducing both the prospect of widespread litigation over replacement rates and the uncertainty over economic outcomes of LIBOR-based contracts. 
The bill is modeled after legislation enacted by the State of New York, and would provide a process for replacing LIBOR in contracts that lack adequate fallback provisions for cessation. Upon cessation of the remaining USD LIBOR tenors, references to them would be replaced with corresponding spread-adjusted SOFR averages. Of perhaps greater importance, the bill would preclude litigation related to so-called "tough legacy" contracts, i.e., existing contracts whose terms do not provide for the use of a clearly defined or practicable replacement benchmark rate. The legislation would also provide safe harbor for the selection of SOFR-based rates in contracts that give the issuer, or agent, the discretion to select a replacement rate. Text – H.R.4616 – 117th Congress (2021-2022): Adjustable Interest Rate (LIBOR) Act of 2021 | Congress.gov | Library of Congress.
Market outlook for 2022 and 2023
With so many LIBOR settings recently ceasing publication, year-end 2021 marked an important milestone. It's important to note, however, that many USD LIBOR settings remain active, and USD exposures far exceed the value of all the settings that have ceased. The remaining tenors of USD LIBOR ― overnight, one-month, three-month, six-month and 12-month — will cease publication as of June 30, 2023. 
While regulatory encouragement and bans ought to end most issuance of new LIBOR-indexed contracts, the remediation of existing LIBOR-indexed contracts is still in process. The fourth quarter of 2021 saw intensified remediation activity among the settings that were scheduled to end. Market participants who had been slow to prepare managed to scale up their transition programs and make the December 31 deadline. Such last-minute races to the finish line may not work as well with USD LIBOR remediation, because of the greater volume of work it will require.
Additional banking and nonbanking guidance is expected to be issued as we progress towards the June 30, 2023 cessation date. In recent statement, the SEC reminded investment professionals of their obligations to customers: "…when recommending LIBOR-linked securities or, as applicable, an investment strategy involving LIBOR-linked investments to retail customers and clients, broker-dealers should consider the best interest standard under Regulation Best Interest and investment advisers should consider their fiduciary obligations." SEC.gov | SEC Staff Statement on LIBOR Transition—Key Considerations for Market Participants.
Market standards for SOFR continue to develop across asset classes. As of March 5, 2021, ISDA's SOFR credit spread adjustments (CSAs) were fixed with respect to major currency LIBOR settings. IBOR-Fallbacks-LIBOR-Cessation_ Announcement_20210305.pdf (bbhub.io).
Market standards for SOFR cash-product CSAs continue to develop. Since 4Q21 new SOFR loan issuance has adopted two-field (SOFR + margin) or three-field (SOFR + CSA + margin) deal pricing. In such deals the CSA has varied by SOFR tenor and is comparably lower than the ISDA CSAs fixed in March 2021. 
After June 2023, when USD LIBOR is no longer quoted, such CSAs will be unnecessary since the pricing of new SOFR transactions can no longer reliably be compared to LIBOR. Thus, the quoting of a separate CSA could reasonably be expected to become increasingly irrelevant as this date approaches.
Other matters remain to be determined in 2022, such as USD swap conversions by LCH and the CME and the hedging of LIBOR and SOFR cash products. LIBOR hedging in particular will be sensitive to reduced liquidity and higher costs, and may not be available per banking regulatory guidance to avoid new LIBOR exposures. Markets are coalescing around standard SOFR hedging practices, such as the use of caps and floors, which may come under review if, as expected, interest rates begin to rise in 2022.
Voya LIBOR transition program
Voya Financial has taken proactive steps to ensure that as a market participant, fund manager and counterparty, we are well positioned to adapt to evolving market conventions, norms and benchmarks. In 2019, we established a comprehensive LIBOR transition program and governance structure, headed by the Voya Financial Risk Committee, with executive sponsorship from Voya Financial's CFO and Voya Investment Management's CEO. The program is chartered to manage the financial and non-financial risks related to LIBOR cessation across the entire Voya Financial organization.
One of the most significant areas of focus of the project is the LIBOR exposure of LIBOR-based floating rate invested assets of Voya's proprietary subsidiaries and investment advisory clients. The LIBOR program includes project managers, AI investment analysis and workstreams dedicated to contract remediation, product transition, system and operational readiness, finance and client communications. Project managers and functional area business leads are coordinating these workstreams and their related interdependencies.
Voya will also monitor current market developments relating to LIBOR cessation from regulators, the ARRC, trade associations, dealers and market participants, and adjust its transition program as needed.
Voya roadmap through June 2023
As of year-end 2021, Voya has completed work to establish operational readiness for alternative reference rate (ARR) transactions. Between now and the permanent cessation of USD LIBOR in June 2023, Voya's LIBOR program will focus on the transition of remaining legacy LIBOR exposure within contracts, products and invested assets. 
Voya-sponsored contracts, products, and performance benchmarks referencing LIBOR have been inventoried and are expected to transition to alternative reference rates ahead of the 2023 LIBOR cessation date consistent with market practice. 
For invested assets, we continue to assess the risks inherent in LIBOR exposures expected to be retained into 2023. We have embedded processes and controls to monitor and manage such exposures, tracking positions and testing scenarios for each line of business. In addition, we continue to monitor market and regulatory developments relating to LIBOR cessation, as well as LIBOR investments and products that are subject to fallback legislation.