Weekly Notables
Performance in the US loan market continued to firm alongside other risk assets, as markets reacted positively to the Fed's expected 25bp rate hike. The Morningstar® LSTA ® US Leveraged Loan Index (Index) returned 0.44% for the seven-day period ended February 2. The average Index bid price increased by 24bp, closing out the week at 94.37.
In the leveraged loan primary market, issuers continued to launch refinancings and amend-and-extend deals this week, given the improving tone. In the forward calendar, net of the anticipated $9.1 billion of repayments not associated with the forward pipeline, the amount of new supply expected to enter the market is about $2.1 billion, versus net new supply of about $2.5 billion in the prior estimate.
Secondary loan market was quiet this week, but average trading levels continued to move higher on the back of stronger technicals. In terms of rating cohorts, Double-Bs, Single-Bs and CCCs returned 0.24%, 0.49% and 1.16%, respectively.
On the demand side, CLO managers priced eight new deals this week, pushing YTD levels to $7.88 billion. On the other hand, retail loan funds continued to experience outflows, as $348.8 million exited the market for the week ended January 25, as compared to $153.8 million in prior week.
There were no defaults in the Index during the week.
Average Bid
February 1, 2019 to February 2, 2023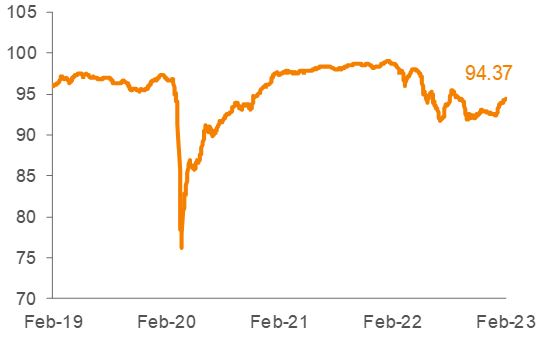 Average 3-YR Call Secondary Spreads1,2
January 1, 2019 to January 31, 2022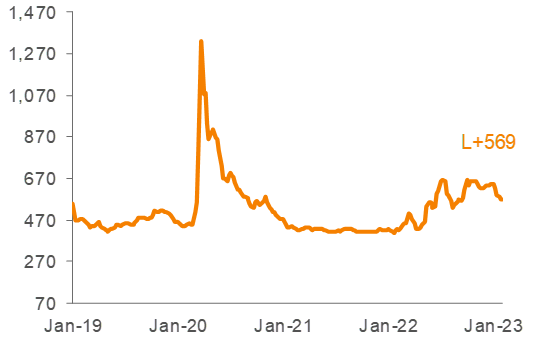 Lagging 12 Month Default Rate3
February 1, 2019 to February 2, 2023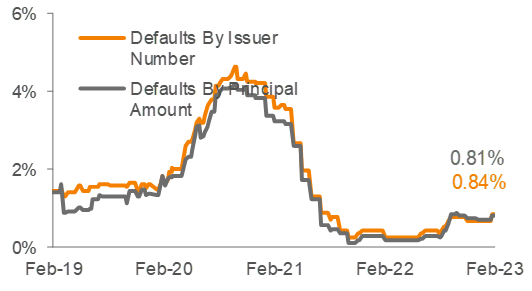 Index Stats

Source:  Pitchbook Data, Inc./LCD, Morningstar ® LSTA ® Leveraged Loan Index. Additional footnotes and disclosures on back page. Past performance is no guarantee of future results.   Investors cannot invest directly in the Index. *The Index's average nominal spread calculation includes the benefit of base rate floors (where applicable).
Monthly Recap: January 2023
The US loan market started off 2023 on a strong note, as the Index returned 2.73% in January (representing the best start to the year since 2009). The average Index bid price closed out the month at 94.23, representing an increase of 178 bp from December levels. Putting into context the new year rally, the Index did not register a daily negative return in January. Despite the outstanding performance, loans underperformed other asset classes, as Equities and High-Yield bonds were up 6.28% (S&P 500) and 3.93% (Morningstar US High-Yield Bond TR USD), respectively, with the latter reflective of tighter spreads and lower yields in January.
From a credit ratings perspective, CCCs outperformed Double-Bs for the first time in a year with a return of 3.09%, as compared to 2.11% for the Double-Bs. Meanwhile, Single-B loans outperformed the broad Index and other rating cohorts with a return of 3.11%, as investors begin to increase their risk appetite on hopes of a soft landing.
Turning to the primary market, new primary loan issuance experienced an uptick this month compared to the seasonally slow December. However, total volume remained largely muted at just $11 billion, with issuance being mainly driven by refinancings along with a few M&A and LBO deals. The size of the loan market, as represented by total Index outstandings, declined by $7.4 billion in January, to $1.41 trillion.   
On the demand front, CLO managers priced $6.5 billion of across 15 new vehicles in January, ahead of last year's issuance of $4.9 billion for the comparable period. On the other hand, retail loan investors continued to exit the market but at a slower pace relative to prior months, as total outflows were $953 million in January (Morningstar Direct).
There were two defaults (Serta Simmons Bedding and Heritage Power) in the Index in January, as the trailing 12-month default rate by principal amount moved higher to 0.83% (from 0.72% in December).