Weekly Notables
The US loan market was under monetary and macro-induced pressure this week, as the Fed delivered a third consecutive 75 bps rate hike. Against this backdrop, the Morningstar® LSTA ® US Leveraged Loan Index (Index) in the seven-day period ended September 22 returned -0.61%. The average Index bid price decreased 70 bps, closing out the period at 93.60.
The primary market was relatively busy this week ahead of the rate hike announcement. Arrangers launched a few deals, most of which were tied to LBO-related activities. As we look at the forward calendar, net new supply (net of expected repayments) anticipated to come to market is currently at $12.8 billion, down from last week's $14 billion.
In the secondary market, while trading levels declined on average, there was some dispersion in performance among ratings cohorts. Despite the weaker tone, lower-rated credits outperformed their higher-rated counterparts. CCC loans returned 0.08%, while Single B and BB returned -0.81% and -0.35%, respectively.
On the investor demand front, CLO issuance remained the primary driver of demand in the market, as eight new issue CLO transactions were priced, bringing YTD levels to $99.94 billion. On the other hand, retail loan funds experienced the largest outflow since the week ended July 13 at approximately $1.2 billion, taking the latest negative streak to five weeks.
There were no defaults in the Index during the week.
Average Bid
September 1, 2017 to September 22, 2022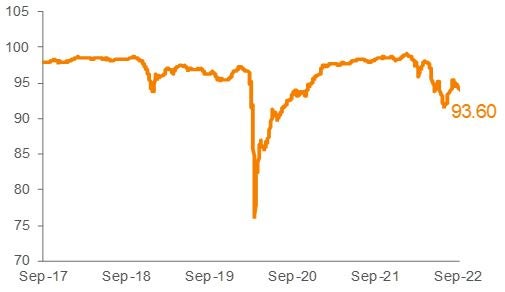 Average 3-YR Call Secondary Spreads 1,2
September 1, 2017 to September 16, 2022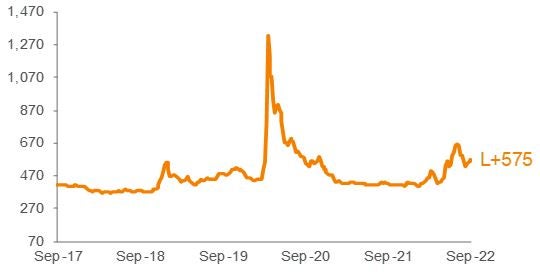 Lagging 12 Month Default Rate 3
September 1, 2017 to September 22, 2022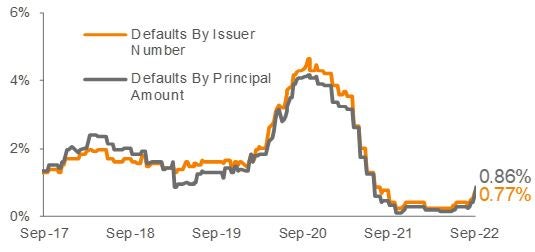 Index Stats

Source:  Pitchbook Data, Inc./LCD, Morningstar ® LSTA ® Leveraged Loan Index. Additional footnotes and disclosures on back page. Past performance is no guarantee of future results.   Investors cannot invest directly in the Index. *The Index's average nominal spread calculation includes the benefit of LIBOR floors (where applicable).