Resources
Our mission is to help our clients meet their investment objectives and enable them to invest across a spectrum of returns, risk and ESG objectives.
---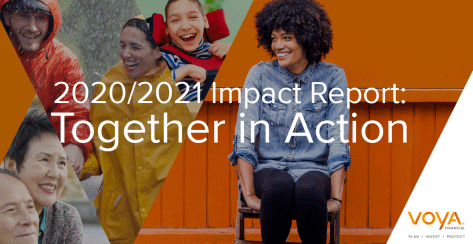 2020/2021 Voya Financial Impact Report
Voya's 2020/2021 Impact Report, "Together in Action," reflects how Voya brought stakeholders together to address some of our shared challenges in 2020 and early 2021. It also highlights our recent performance on the environmental, social and governance (ESG) issues most material for our business and a brief look at our path forward.
Disclosures
Environmental, social and governance ("ESG") factors can impact the investment risk and return profiles of our investments. Investing based on ESG factors may cause a strategy to take risks or forego exposures available to strategies or products that do not incorporate ESG factors, which could negatively impact performance.  There is no assurance that investing based on ESG factors will be successful. Past performance is no guarantee of future results.